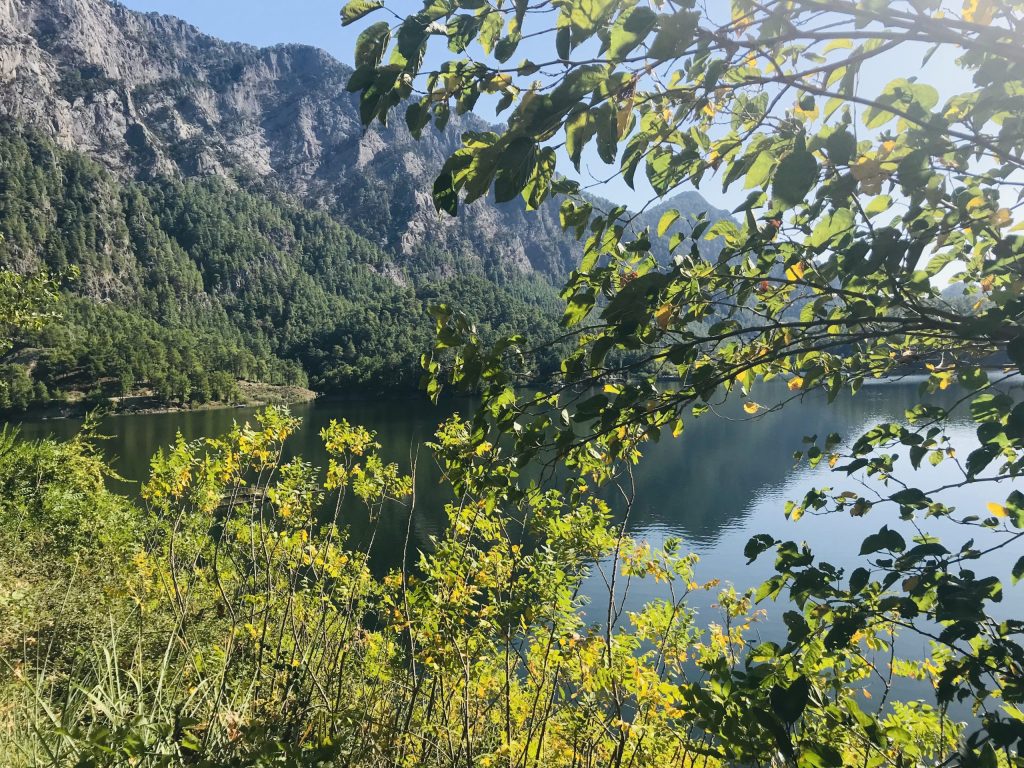 Several years ago, on our way to Konya from Antalya, we serendipitously stumbled upon the most idyllic spot to stop and take a mola (break) in nature: Gölbaşı Restaurant overlooking Karacaören Barajı. Only about an hour north of Antalya on E685 and technically in the Burdur Province, this peaceful lake is a delight.
There are clean restrooms, a gift shop, and groceries in addition to the restaurant, which make for a convenient stop, but the view is what makes this place special and worth an escape from the city. You can walk around the outside of the restaurant on a short trail that highlights the lake's spectacular foliage and pristine water. In the fall, the trees turn magical colors and it is an autumn lover's dream. We have gone there every October for the last three years and have not been disappointed by the somewhat cooler temperatures and glimpses of fall that are harder to find in Antalya.
After exploring for a few minutes and taking lots of pictures, you can sit outside on the balcony or at a picnic table in the garden while sipping tea and reveling in the peaceful atmosphere of the lake valley surrounded by mountains. We wish there were longer paths to hike around the lake, and maybe there are, but for now we just know it's a beautiful place to gather with family and friends to appreciate the view.
Even though the restaurant gets busy during the weekend, we still think it is worth a visit in the fall if you want to just get away from the city for a few hours and breathe in the fresh air. The food at the restaurant is decent, and the rose jelly is some of the best we have ever had, but don't expect to be wowed by the typical Turkish kahvaltı. It's the shimmering water, picture-framed by golden leaves, that will leave you breathless.
Getting there: Gölbaşı Restaurant is easily reached using GPS in your car or if you hire a taxi or driver. Take E685 north from Aksu.
Location: Isparta – Antalya Yolu, 15325 Kargı/Bucak/Burdur, Turkey