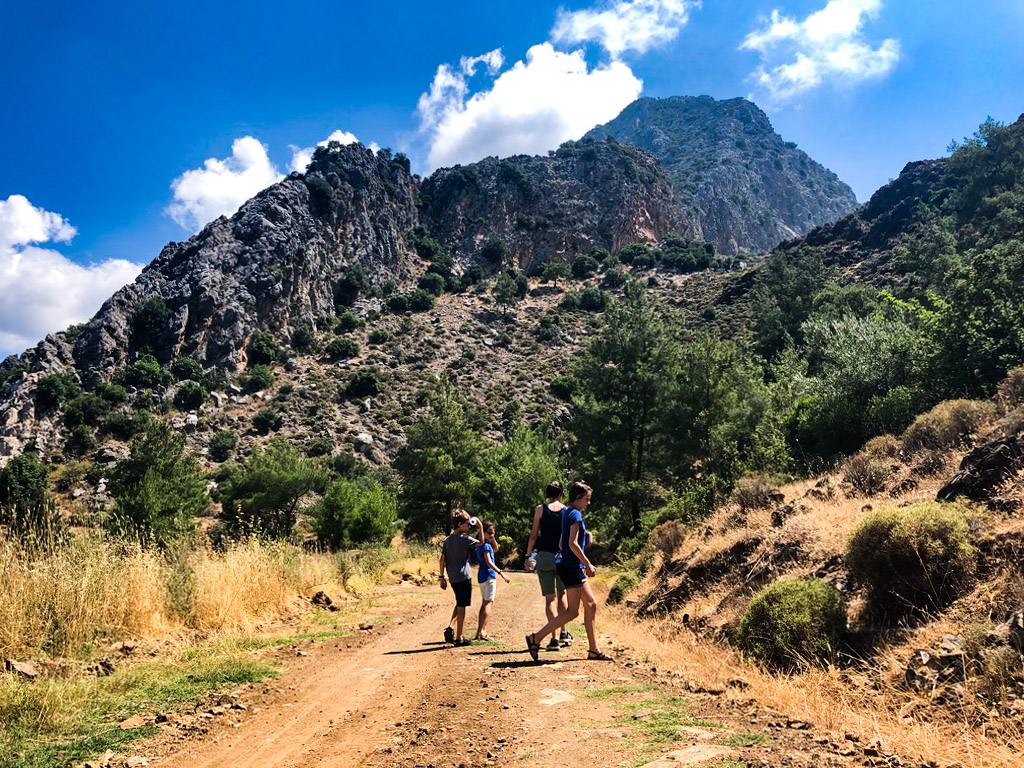 A two-lane road ripples away from the highway between Kemer and Kaş, pulling us closer to the sea and further from the noise of the city. Turning onto the lane at the bottom, a sandy beach watched over by a pine forest hints at the natural bay's peaceful vacation offering. 
Our family of five adored our hotel, the Ford, that could cozily accommodate us in a family room. It's pool with dining area and bar was a car-breadth away from the descent to the shoreline. Their traditional Turkish breakfast filled us well to hike, splash in the sea, and snack on gözleme (a thin, stuffed flatbread) until dinner. The Ford Hotel's chef, Yusuf, created mouthwatering grilled seafoods and meats, salads and sides, and fresh desserts and was able to accommodate vegetarian and gluten free diets. 
Our children rave about their snorkeling adventure, revealing schools of fish swimming beneath them.  Bring your goggles and sunscreen for hours of fun. As for Mom and Dad, we cherish the shade on a lounge chair at the sea, inexpensively rented from a vendor, and the family's long hike up to the abandoned castle. While we didn't join one of the many groups trekking portions of the ancient Lycian Way, our family proudly scaled the hiking trail leading to castle ruins that overlook the gentle curve of Adrasan's cobalt bay. Be sure to carry enough water for a couple of hours – the sun was quite strong in June – and wear comfortable walking shoes. 
Come summer, we will return to this quiet strip of coastline for time together swimming and hiking. Perhaps we will take one of the boat trips or fishing excursions during our visit as one would be easily organized through our hotel. No doubt campers, hikers, families and couples from all over the world will trickle into the area, as Adrasan enchants us all with its calm and beauty. 
A number of boutique hotels, hostels, private rental properties and campsites are available for the overnight guest. Quick cafés, Turkish seafood restaurants and markets make meals and snacks easily accessible.  
Travel to Adrasan is an easy 90 minutes from the Antalya Airport to Adrasan by car, taxi, or bus. Easy day trips from Adrasan include Olympos, Phaselis, Yanartaş, Demre, Arkanda, Göynük Kanyonu, and Tahtalı Dağı Telefirk. 
Hotel: Ford Hotel https://www.fordhotel.net  
Address: No:220, Sahil Yolu Caddesi, 07370 Kumluca/Antalya 
Phone: (0242) 883 10 44