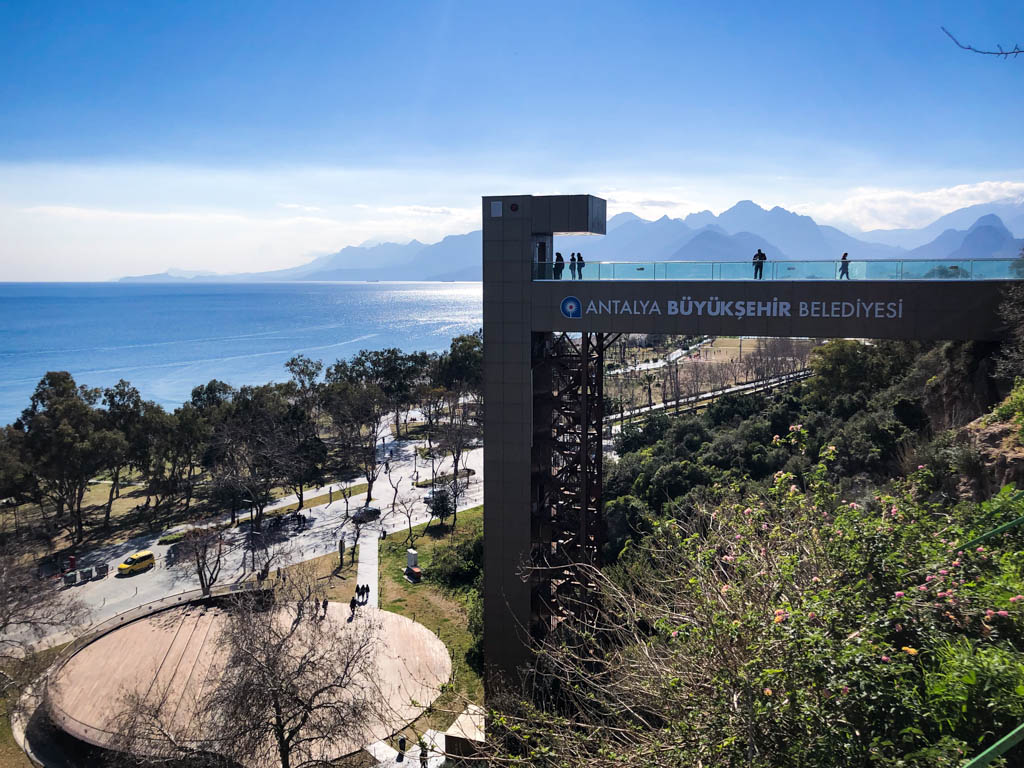 Nature, good food, small-scale adventure, and culture… Atatürk Kültür Parkı offers a taste of them all. A beautiful afternoon or weekend brings out families and friends for flying kites in the manicured lawns, picnicking in the shady areas, and enjoying the playground.  Children delight in the ducks and koi fish swimming in the ponds and the cats and dogs playing in their own spaces. Bicyclists pass runners and walkers on the paths.   
And one early spring afternoon, our family arrived to enjoy the sunny, warm day. We wandered around the trails, discovering all the area has to offer. When we spotted a bicycle built for four (yes, FOUR), we jumped at the chance to try something new. While the bike frame was heavy with two adults and two children, it was doable. Eventually we let the kids drive alone while we jogged beside them, ready to grab the brake should someone step into their path. What a fun experience, and good quad workout, for a family. Bikes can for be rented for 30 tl for half an hour. The stand also rents small four wheelers for 20 tl for 10 minutes.  
The park encompasses an outdoor theater, a preschool, a large glass pyramid exhibition hall, a cultural center (closed for COVID during our visit) and a few government associations, including retirement and orchestra social clubs. It also borders the Rixos Hotel, Aqualand water park, and a private tennis club. Interestingly, Atatürk Kültür Parkı hosts an international film festival each year, which explains the large golden statue representing the awards found near the pyramid.  
Visitors can find packaged snacks and drinks at the bike rental stand and full café service at a Robert's Coffee. Taxi stands are located at park entrances and bus lines run along the main road.  While you are in the area, visits to the Antalya Aquarium, Luna Park's Heart of Antalya, or 5M Migros shopping center might be amusing ways to spend the rest of the day.  You could even take the glass elevator, located along the cliffs at the back of the park, down to Sahil Antalya and have dinner as the sun sets. 
Regardless of how you pass time at Atatürk Kültür Parkı, watch out for the fast-moving motorbikes or passing cars. Then join them in enjoying the entertainment within the park alongside the magnificent views of the Taurus Mountains and Mediterranean Sea. 
 Location: Meltem, Konyaaltı Plajı No:21399, 07030 Muratpaşa/Antalya 
Parking: 5TL lot off 100 Yıl; street parking available; hourly paid lot at the sea