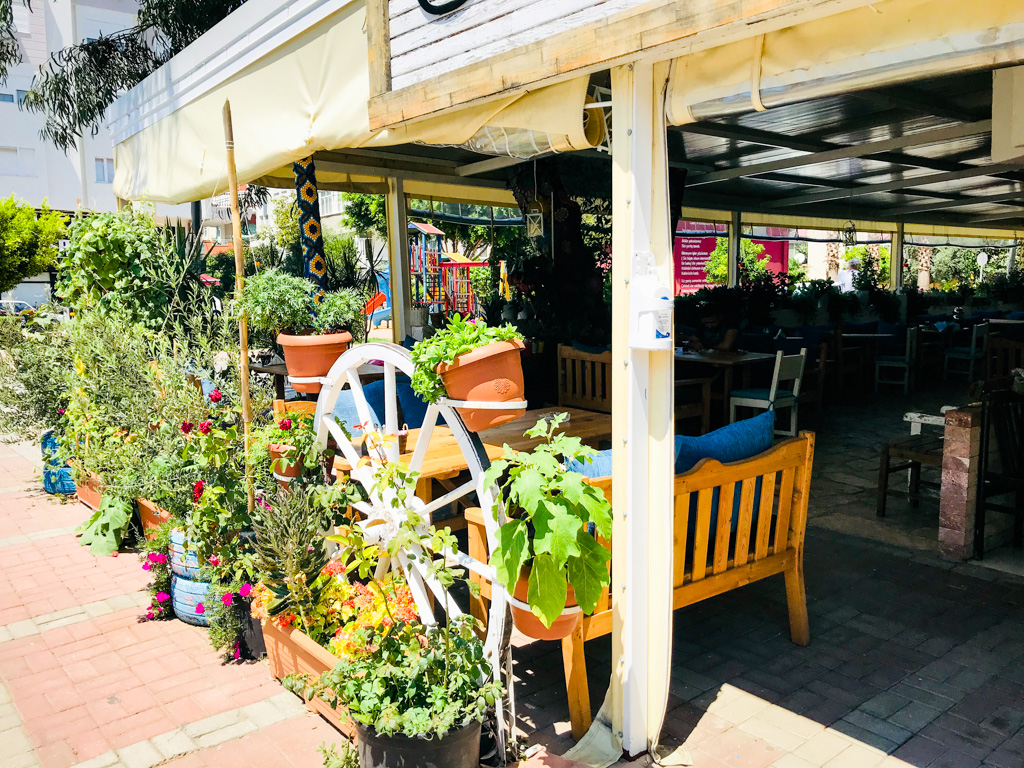 The first restaurant on our hunt for the best kahvaltı in Antalya is found in the resort town of Manavgat. We found Bükmecim Kahvaltı in an online search for kahvaltı places on our way through town toward Alanya because it was close to the highway. Here is the rundown: 
Location: Bükmechim Kahvaltı was easy to find and the GPS location is right on. There was a slight mix-up coming from the west because Google Maps did not recognize the highway is now an over pass on the road onto which it wanted us to turn. But once we crossed the river and were able to get off and turn back around, Google Maps took us right to the front door. There is not a parking lot, but we were easily able to find street parking right around the corner. 
Atmosphere: The restaurant is situated in the middle of town, so it is not necessarily a beautiful location. However, the restaurant itself is lovely and aesthetically pleasing with colorful plants and succulents lining the entry and filling the patio seating, which makes up much of the space. The wooden tables have bench seats covered in brightly colored, comfy cushions and pillows. Indoor seating is limited, so if smoking bothers you, you are probably out of luck. The food arrives in all bright yellow serving dishes, which adds to the bright and cheerful atmosphere.  
Quality of Food: Everything we ate was fresh and delicious. The olives were just the right amount of salty, the tomatoes and cucumbers were perfectly ripe, and the cheeses were varied and delectable. The sarma (grape leaves stuffed with rice and meat) was some of the best we have ever tasted, as was the freshly fried pişi (kind of like flat doughnuts without sugar). The tea was unlimited and not at all bitter. The mouth-watering jams were made on-site and fresh. In addition to all of the normal kahvaltı items, there was an eggplant, tomato paste and cream cheese dip with the perfect hint of spice that we couldn't get enough of. The only negative was the lack of typical Antalya offerings of gözleme (Turkish tortilla like flaky dough filled with meat, potatoes, or cheese) or bazlama (English muffin-like bread sometimes stuffed with cheese).  
Amount of Food: The serving sizes were right on, and we had more than enough food without there being a tremendous amount of waste. We actually ate most of the cheese and olives, which is rare in our family. 
Cost: For the delicious spread we were given, the price seemed reasonable and average at 40TL per person for a Serpme Kahvaltı (spreading breakfast).  
Cleanliness: Our table was a little dirty when we sat down, but our server immediately took off to get cleaning spray and a fresh rag to wipe it off. The rest of the restaurant appeared well cared for and clean.   
Restrooms: There was one western toilet for men and one for women. They were small and not fancy, but they were clean and had toilet paper and paper towels to use.  
 Service: We visited during COVID-19 season, and our service was friendly and helpful even with masks. The wait for our food after we ordered was minimal. We felt attended to and did not go without anything for which we asked.  
Final Thoughts: Based on the delicious and fresh food we were served in a timely manner, we recommend giving Bükmecim Kahvaltı a try if you are in the area and want a guaranteed good–tasting traditional breakfast experience without a significant wait. Don't expect eye-popping views or to commune with nature other than plants, but you can expect to leave satisfied with the food you ate and the service you received.  
Location: A. Hisar, Güllük Cd. No:17/A, 07600 Manavgat/Antalya, Turkey 
Hours: Tuesday – Sunday : 8:30 – 17:30 Closed on Mondays 
Telephone: +90 534 373 2826