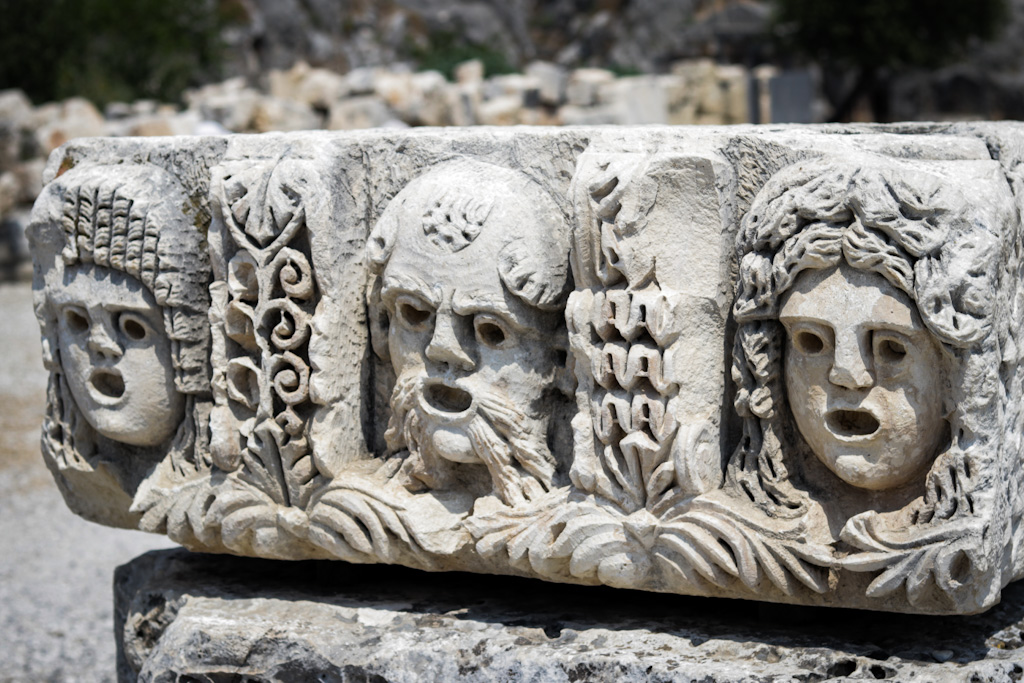 Ancient Myra is well known for its striking rock tombs carved into the cliffside.  During the 5th century BC, Myra was one of the six leading cities of the Lycian Union, which also included Xanthos, Tlos, Pinara, Patara and Olympos.  At its height, the city had a great temple of the goddess Artemis Eleuthera, one of Lycia's most distinctive buildings. Interestingly enough, there is no sign of this building today because Saint Nicholas actually had the temple destroyed during his time as bishop of Myra.  
Between its well-preserved stadium, the hundreds of excavated, intricately carved masks around the site, and the unique rock tombs, Myra warrants a stop if you are visiting the nearby Saint Nicholas Museum in town. We wouldn't recommend a special trip because the grounds are not as extensive as some of the other ruins and are more carefully marked off, meaning children are not able to freely explore.   The rock tombs are truly unique among ruins, even if the amphitheater does fail to wow and the grounds fall short among the regions' ancient ruins.  
Be prepared for tour buses during the high summer season but expect little to no crowds in other seasons. We were there during the winter, but during high tourist season the multiple souvenirs stands outside the paid entrance call for your attention. There is also a café and decently clean bathrooms outside the entrance. Parking is available nearby, with seasonal and delicious fresh–squeezed juice stands in the same lot. 
Ancient Myra can be found about 1.5 km north of the modern-day city of Demre, which is a small city around 145 km west of Antalya.  
Location: Myra Örenyeri, 07570 Demre/Antalya, Turkey 
Telephone: +90 242 871 6821 
Hours: 1 April – 1 October: 10:00 – 19:00 Daily, 2 October – March 31: 8:30 – 17:30 Daily   (Entrance closes 30 minutes before site) 
Entrance Fee: 45TL or Free with Museum Pass as of August 2020 
Website: https://muze.gov.tr/muze-detay?sectionId=MYR01&distId=MYR