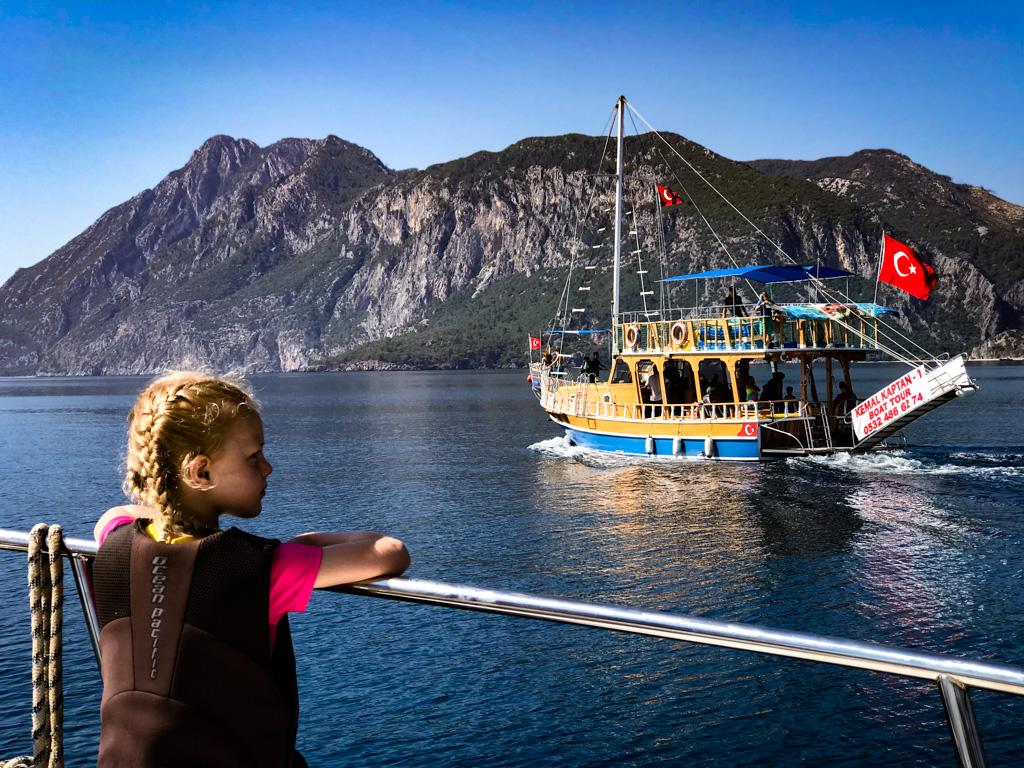 As you dream of your Mediterranean vacation, imagine yourself floating on blue, open water and feeling the warmth of the shining sun. Then breathe in the smell of the salt water as you hear the laughter of your crew splashing and playing together. Open your eyes, knowing you will have the chance to make those daydreams a family memory when you take that summer holiday in Antalya. 
"Blue Cruises" and boat trips are a popular tourist activity from almost every port in Antalya. We were lucky to join a large group on a half day trip from Çıralı* on a balmy June morning, and it was one of the best experiences we have had in Antalya as a family.  
We took a half-day, five-hour trip which included four stops in different locations where we could hop out and swim around. Our first stop was a cove with crystal clear water called "The Aquarium" where we saw ginormous sea turtles and could jump off the top of the double decker boat. The second was by a shimmery cave into which you could swim. The next stop was another cove with a beach where we could swim to shore and snack on watermelon and Turkish tea. The final stop was at the end of the beach at the west side of Ancient Olympos where there is a tall rock formation in the water from which the brave at heart can jump into the sea.  
Normally, lunch is included in the half-day trip, and dinner as well for all day trips, but, unfortunately, we ventured out during COVID-19 days and lunch was not allowed. We were able to bring snacks and drinks to consume when we wanted.  
For those concerned about safety and other ship details, there are plentiful life jackets on board and there are places to spread out either in the sun or the shade. There is also a decently clean bathroom on board. On the day we ventured out, the water was as smooth as glass and when the boat sailed, it was as if we were gliding across a turquoise lake.  
At the end of our time in Çıralı, our boat trip was a highlight. It was a safe, comfortable, and exciting experience that we would highly recommend, and such a nice break from just hanging out on the beach. It was worth the money spent, and the memories made won't soon be forgotten.  
*Boats are anchored out in the water and are pulled closer to the shore for departures. Call the numbers listed on the boats for more information about specific rates and departure times. 
Location: Çıralı Beach 
Who: Adalı Kaptan 1 Boat Tour or Kemal Kaptan 1 Boat Tour 
Telephone: +90 532 494 6990 or +90 532 486 627 n4 
Fees: Vary depending on half or full day.