How is 2021 coming to a close? Between lockdowns for the first six months of the year and a four-month trip back to our passport country to spend time with family and friends after a long pandemic season, our Antalya adventures were limited this past year. Despite this, we still found ourselves falling more in love with this magnificent province and all the wonders – ancient and modern – it holds. To close this crazy year, here is a list of our top five experiences of 2021.
Top Five Antalya Experiences in 2021
Last spring after the extended lockdown we enthusiastically loaded up our van and headed east toward Manavgat to explore this off-the-beaten-path gem. We grabbed breakfast to go from Bükmecim and were delighted to find Lyrbe, uncrowded and encased with majestic trees. It was peaceful and felt like the perfect scene for a fairy-tale. May was the perfect month to visit as the ruins were crowned with pink oleander bushes in their glorious bloom. Sadly enough, just a couple months later devastating fires swept through Lyrbe and all of the natural wildlife was completely destroyed. We hope to post more about our time there in the coming weeks so you can see this ancient wonder in all of its pre-fire splendor.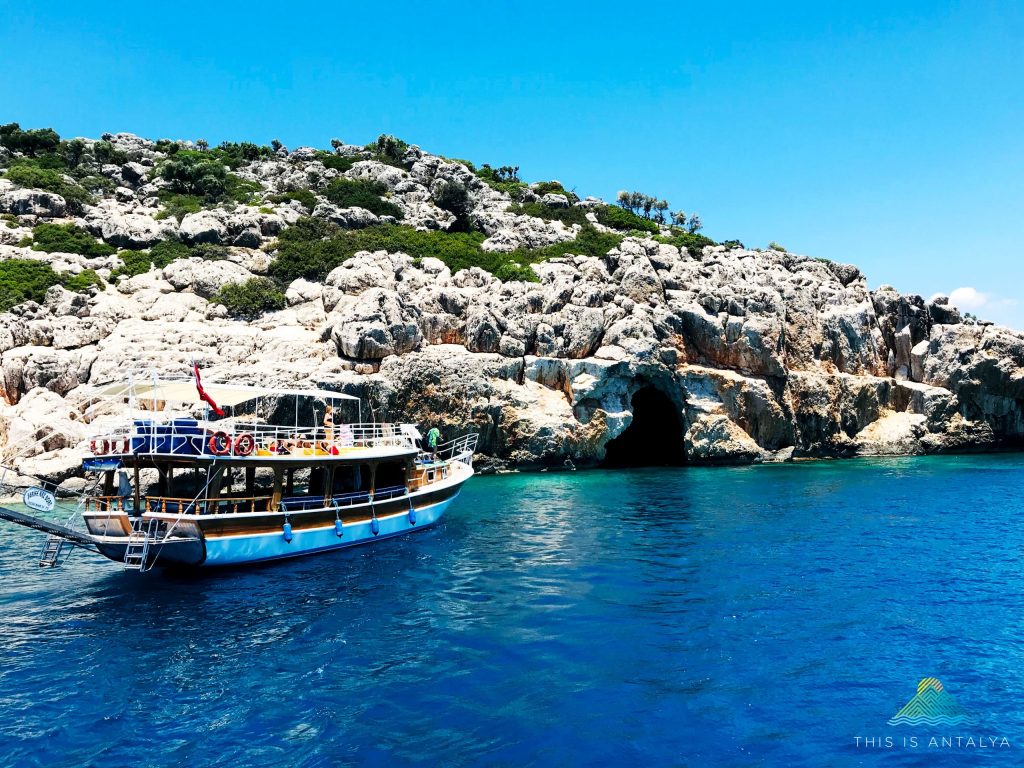 In the early summer we took a day cruise from Uçağız to the Kekova area in Demre. This day-long adventure included viewing the sunken city of Simena and the enchanting village of Kaleköy. We anchored in multiple stops to dive into the refreshing turquoise sea and feasted on some of the best Turkish food we have ever eaten. If we had to choose between a half-day cruise like the one we did in Çıralı or basking in the sun on deck for an entire day, the all-day excursion wins.
Let's be real. We are surrounded by fabulous beaches at every turn. But what stood out to us about Patara Beach was the exquisitely soft sand…. The kind of sand our kids could use to build sand castles. The water stays shallow for meters and the fact that it is untouched by modern conveniences and development is incredibly refreshing.
This post-apocalyptic appearing park was a pleasant and welcome surprise to our family during the limited pockets of time that kids were allowed outside last Spring. With plenty of room to run, an incredible kids' park, and awe-inspiring remnants of the Botanic Exposition that graced Antalya in 2016, Expo Park is a delightful and largely overlooked green space.
One visit to this park and you will want to write a screenplay that features Kurşunlu's enchanted waterfall lagoon. It literally feels like something from a movie set. Besides the jaw-dropping beauty of the falls, there are kilometers/miles of tree sheltered trails to roam and explore. There is also a playground and picnic area. What more could we want?
Top Five Places We Want to Explore in 2022
To usher in the new year with hopes that we will be freer to roam, here is a list of the top five places we would like to visit in 2022 (not necessarily in this order).
Our day cruise in Demre gave us a short glimpse of all the magic Kaleköy and its surrounding area holds. The idea that you can only get to this picturesque village underneath the castle by sea or foot is fascinating. Its charming hotels and cafes overlooking the water are captivating and filled with friendly locals we can't wait to meet. The opportunity to roam the hills is beckoning to us.
Yes, we know the Olympos Teleferik is a frequently visited place in Antalya, and we cannot believe we haven't visited it yet either. We have driven by the entrance so many times, but have honestly put it off because one of our family members is afraid of heights. A cable car ride up a 2,365 meter/7,759 foot mountain is understandably anxiety-inducing, but we are going to conquer it this year. With or without said family member.
This Cappadocia-like area with rocks that look like giant men is on our short list. We love exploring all the rock formations in Cappadocia and are excited to see Antalya's version (not to be confused with the ancient carved figures also called Adam Kayalar in Mersin) up close soon.
4. Canoeing the Xanthos River
When we visited Xanthos in late 2020 we heard about the opportunity to canoe down the river with a guide. This sounds like a fun-filled family adventure and we hope to make it happen in 2022.
We are an ancient-city loving family. The thrill of the space, the freedom to discover, and the conjuring up in our imaginations of what life must have been like way back when keeps us searching for more. We have visited most of the ruins in Antalya, but there are still a few left. The history in this part of the world is baffling, and we feel so blessed to be here to behold it.
And, that's a wrap for 2021. As we look forward with anticipation to 2022, we do so with hands folded in prayer. May our pandemic weary world continue to heal and allow people to freely travel and experience all that Antalya has to offer. Here's to the adventures 2022 will hopefully bring! Let us know in the comments which Antalya places are on your 2022 bucket list.
A blessed and happy new year to all!!!