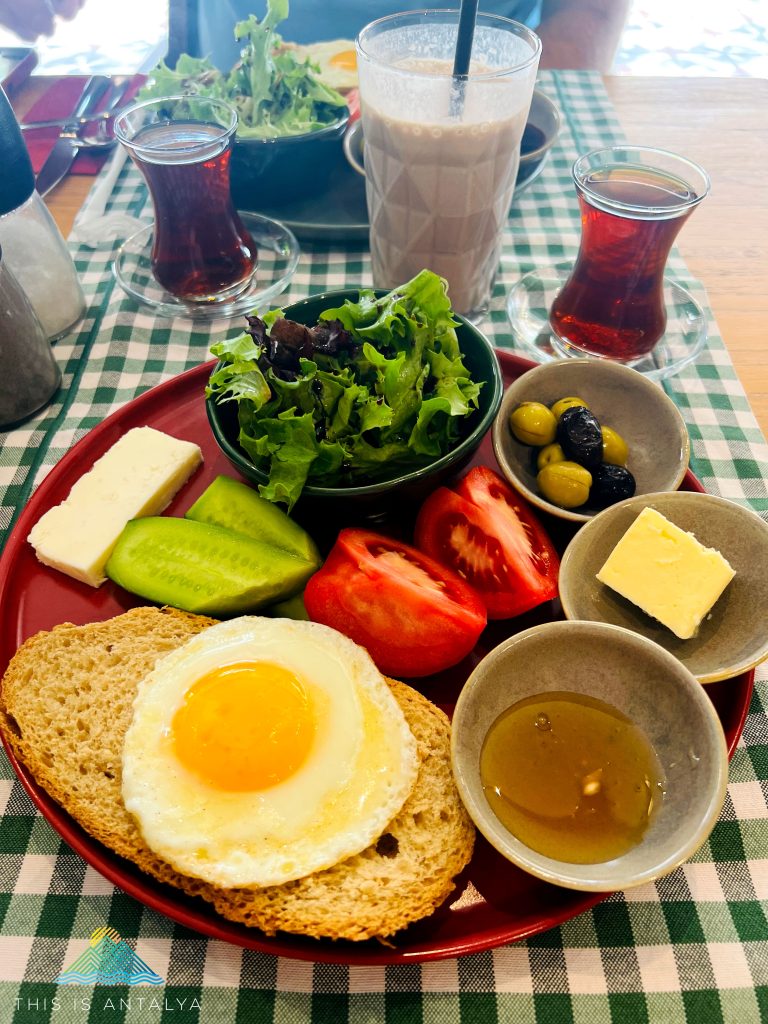 Always on the lookout for unique or fun restaurants, we joyfully stumbled upon FMutfak when on the Lara side of town a few weeks ago. From the charming aesthetic to the simply prepared and tasty food, our experience was delightful and we look forward to returning soon. Read on to find out why.
On the menu you will find breakfast options that include traditional Turkish breakfast with an appetizing spread. For lunch or dinner, you can choose from chicken and beef dishes, salads, and pasta – their specialty. Especially exciting is the offering of vegan options and gluten-free noodles.  If you want to come and hang out with friends without eating a full meal, they also offer house-made desserts, smoothies, specialty coffee, tea, and a wine bar.
One of the cuisines we frequently miss here in Antalya is delicious pasta. You can get noodles at just about any bistro or cafe, but more often than not we are disappointed when we order them. FMutfak might be an exception. But, when we arrived, we had breakfast on our mind. So, despite the countless glowing google reviews of their pasta, we ordered kahvaltı (breakfast plates) and smoothies. The breakfast plates were fresh and delicious, but after we finished eating and were about to leave, the server brought out a plate of pasta to a woman seated behind us. It looked and smelled heavenly and made us wish we had opted for pasta. (Not because the kahvaltı plate was bad…the pasta just appeared that amazing!) Next time we won't hesitate to order some house-made noodles!
The service was kind, gracious and hospitable. When we asked for one of our smoothies to be tweaked a little, it was not a problem. The presentation was beautiful and every part of the restaurant was thoughtfully decorated to create such a warm, inviting atmosphere. We chose to sit inside, but there are a few tables out on a patio in the front for those who enjoy outdoor seating.
The bathrooms were impeccably clean and smelled nice, not something you always find here. In the back of the restaurant is a good-sized, semi-private meeting room with a beautiful wooden table that could seat 10-15 people.
Our entire experience was pleasant from start to finish, and we highly recommend you give it a try if you are on the Lara side of town.
The tagline on the FMutfak sign says, "Cooking Stories." We look forward to learning more of its story and sampling its pasta soon!
FMutfak is located on the Lara side of town in between Lara Caddesi and Tekelioğlu Caddesi and not far from Terra City Mall. Multiple buses run to this part of town. Consult the AntalyaKart app to figure out the quickest way to get there.
If you drive your own vehicle, know there is just street parking available.
Address: Şirinyalı, 1504. Sk. no:5, 07160 Muratpaşa/Antalya
Phone: 90 533 413 33 55
Hours: Wednesday – Monday (closed on Tuesdays) from 11:00 – 22:00