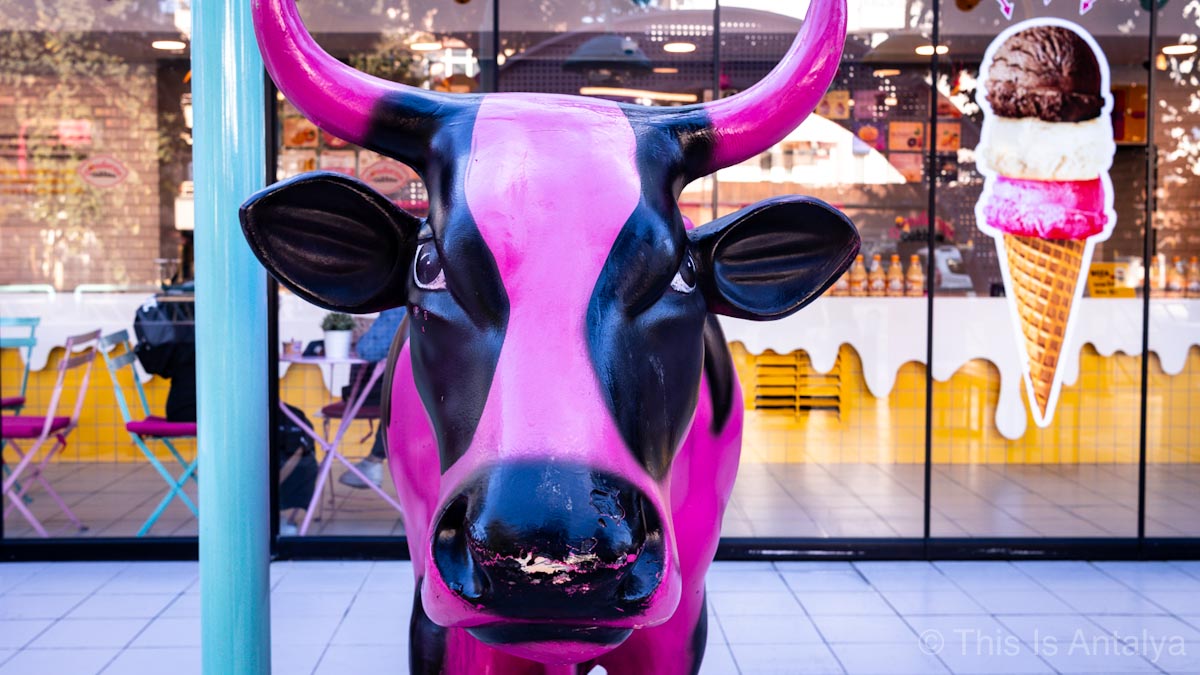 With temperatures topping 107F each summer but dipping only to the upper 50s in the winter, Antlaya tempts visitors and locals alike with abundant ice cream choices.  And our family set out to try them all.  It was a valiant effort on our part and rewarded us with a scoop to share. 
Local Chains: 
Bella Gelateria, Kaleici and Konyaalti  
Enter this ice cream parlor and your nose gives it away first – these ice creams and cones are crafted with palatable excellence.  Using fresh ingredients to create flavors for both children and those paying, Bella produces ice cream daily throughout the year.  The strawberry tastes like strawberry, the mocha like mocha and the lemon like lemon.  Prices start at 5tl a scoop. 
Dondurma Dükkanı, locations throughout the city 
Our kids' favorite, Dondurma Dükkanı an affordable cone, cup or sandwich as big as your face. You'll quickly recognize the hot pink and black cow as your signal to stop and indulge in their full menu of tasty options and toppings.  The shop delivers ice cream with natural ingredients, no preservatives and fresh fruit. Spring, summer, fall and winter bring a vast range of new flavors to keep us coming back. Scoops start at just 2tl. 
Konak Dondurma, Muratpasa and Konyaalti (Gazi Mustafa Kemal Blvd) 
We first saw "konak" before ice cream but knew this meant "goat" ice cream in Turkish, our brains said, "nope." Thankfully we followed the recommendation of friends to give it a try. A safe choice for those with dairy allergies or intolerances, Konak ice cream really is enjoyable.  Their dark chocolate paired with strawberry is incredible – in regular or sweetened only with stevia. Prices start at 4tl a scoop, with an additional lira charge for stevia. 
Nube Gelato, Konyaaltı
A bright, happy shop welcomes your sweet tooth to choose from a curated selection of homemade gelato. One favorite is the fresh berry flavor, a delicious strawberry or perhaps a delightful raspberry, though the vanilla tastes like birthday cake and pairs beautifully with the bitter chocolate. Each cup comes with a waffle cookie, perfect for scooping up the first tastes of summer. 
Market Finds: 
Magnum  
What ice cream bars of our dreams taste like, the Magnum bar wins the gold.  Limited time offerings like tiramisu or caramel change with the seasons, but you can always count on the milk or white chocolate dipped vanilla, with or without almonds, and chocolate dipped chocolate.  Miniatures are available so you can try a flavor, or three. 
Carte D'or  
Found in freezer sections and street stands, this brand offers classic and seasonal choices.  Products have familiar textures and flavors like kaymakli (sweet cream), visne (sour cherry) and çikolata karnavali (chocolate and cream swirl with chocolate chunks).  Brands from the same company, such as Algida Keyif or Algida Maraş, can feel more Turkish– involving a fork, knife and chewing but they do have a wide variety of popsicles and bars.   
Dessert with a show 
If you find yourself in need of a cool down while near a busy tourist attraction, a fez-clad man will entice you with tricks and traditional Turkish ice cream.  Thickened with mastic (and sometimes flour) before being kneaded like bread dough, the stretchy consistency provides an experience of showmanship and a unique dessert worth the extra lira at least once.