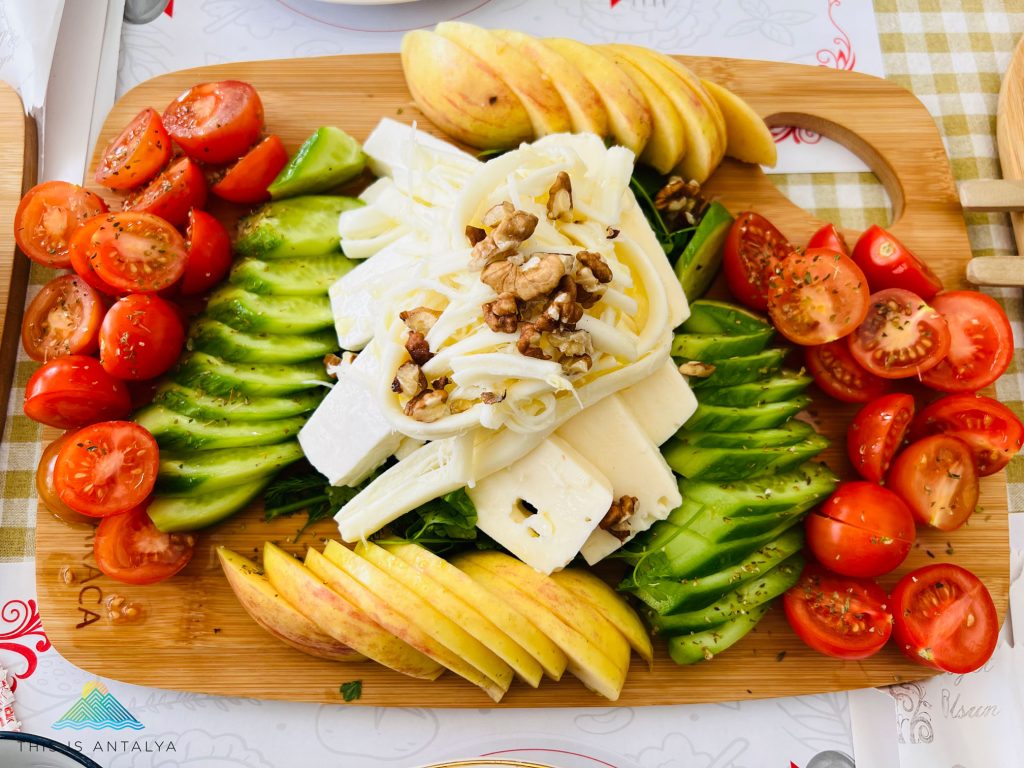 We are exceedingly happy about Pista Sepet Kahvaltı in Konyaaltı because they sell kahvaltı (breakfast) baskets to go! So often when we have been out exploring a ruin or park, we have wished for a kahvaltı to go. Our wishes have come true! No more last minute stops at Migros to put together our own picnic. Pista Sepet Kahvaltı to the rescue!
Even though take-away baskets are their main focus, the owners, Pınar and İlhan, have done a lovely job creating an inviting space in which you can eat breakfast at the restaurant. There is room on the patio for several tables when it is warm enough, and there are a few tables inside. The inside is charming and decorated with hand-made crafts that give it a warm feel. With an open kitchen concept where you can watch your food as it is prepared, it almost feels like you are eating at a friend's house rather than a restaurant.
İlhan is from the Black Sea region and the majority of the food comes from his family's farms there. The jellies are added-sugar free and delicious. The cheeses and olives are top notch. Pınar chops up the potatoes and fries them up to order, which makes the fries some of the best we have had. The presentation is lovely and certainly Instagram worthy.
The serving sizes were generous and more than enough to feed our family of six. It also wasn't so much that a lot of food was wasted, which we prefer.
At 140TL for two, the Serpme Kahvaltı (spreading breakfast) is mid-range for price. Its seems as if prices everywhere are increasing at a rapid pace right now, so we will gladly pay that much for delectable farm to table, not store-bought jellies, cheeses, and olives. The delightful customer service İlhan and Pınar provide is worth the amount they charge.
The inside and outside of the restaurant are clean and well-kempt. The kitchen area is also tidy and we felt comfortable watching Pınar prepare our food.
There is one restroom inside the restaurant. It is clean and actually has soap and towels to dry your hands. Always a plus!
We visited on a Tuesday morning in the winter and there was no one else there, so we can only vouch for non-tourism season. İlhan and Pınar are gracious and hospitable hosts. We felt welcomed and comfortable, and all of our needs were taken care of while we were there. Since it is such a small space, it really does feel like having breakfast at an attentive friend's house. Pınar prepares the food to order, so it takes a bit for it to be ready, but you can watch the entire process and it seems to go quickly. This might be different during tourism season when more people are coming and going, but Pınar works with efficiency and skill to get your breakfast out in good time.
We LOVE, LOVE, LOVE the idea of take-away kahvaltı baskets, especially when they are filled with farm to table food.  We also LOVE small businesses and the ingenuity and hospitality of İlhan and Pınar. Give breakfast a try in the restaurant soon, but also, be sure to order a take-away basket when beach weather returns. You won't regret it!