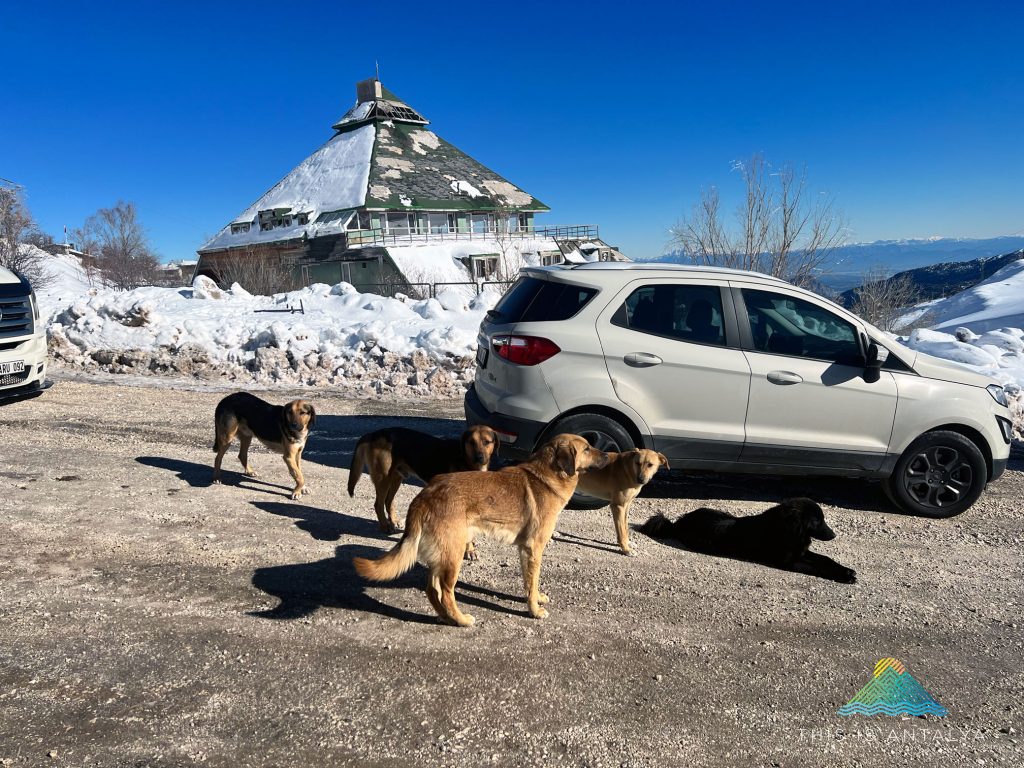 Everyone can find something in which to delight while visiting Antalya. The fact that Saklıkent, a (sometimes) sparkling snowy winter resort, lies only one hour from the turquoise blue sea is proof of this. If you visit between January and March and you see snow on the distant mountains to the west, chances are good you can fit a winter sports day in while you are here.
Saklıkent means "hidden city." It certainly feels that way once you get to the resort and there is nothing else around but one hotel, a restaurant, and a small community of villas. With a snow depth averaging  over 100 cm (over 40 inches) and four different ski runs, Saklıkent offers a little something for most skiers/snowboarders.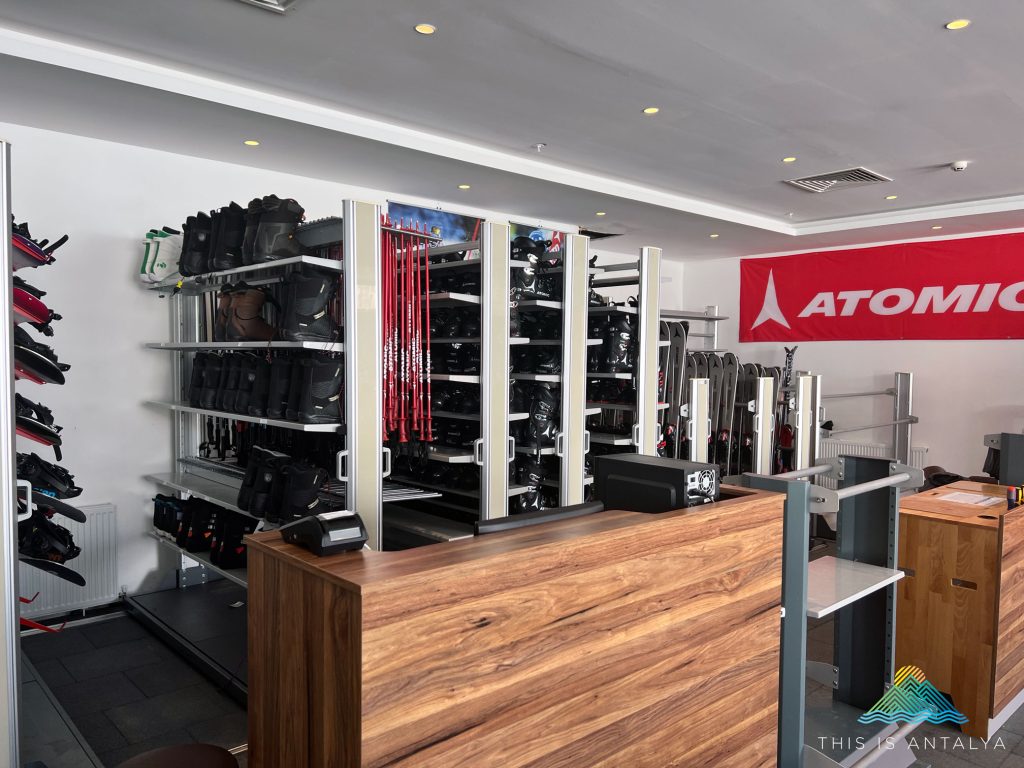 Without lessons, ski equipment rental costs 200TL and snow board equipment rental costs 300TL at the resort. This includes boots, skis/snowboard, and ski poles. You are allowed to bring in your own equipment, and there is also a rental store before you get to the ski park that advertises ski rentals for 125TL. The equipment we rented directly from the resort was in excellent condition and working order, but the rental area is quite small, so we were grateful it wasn't a busy day when we were there.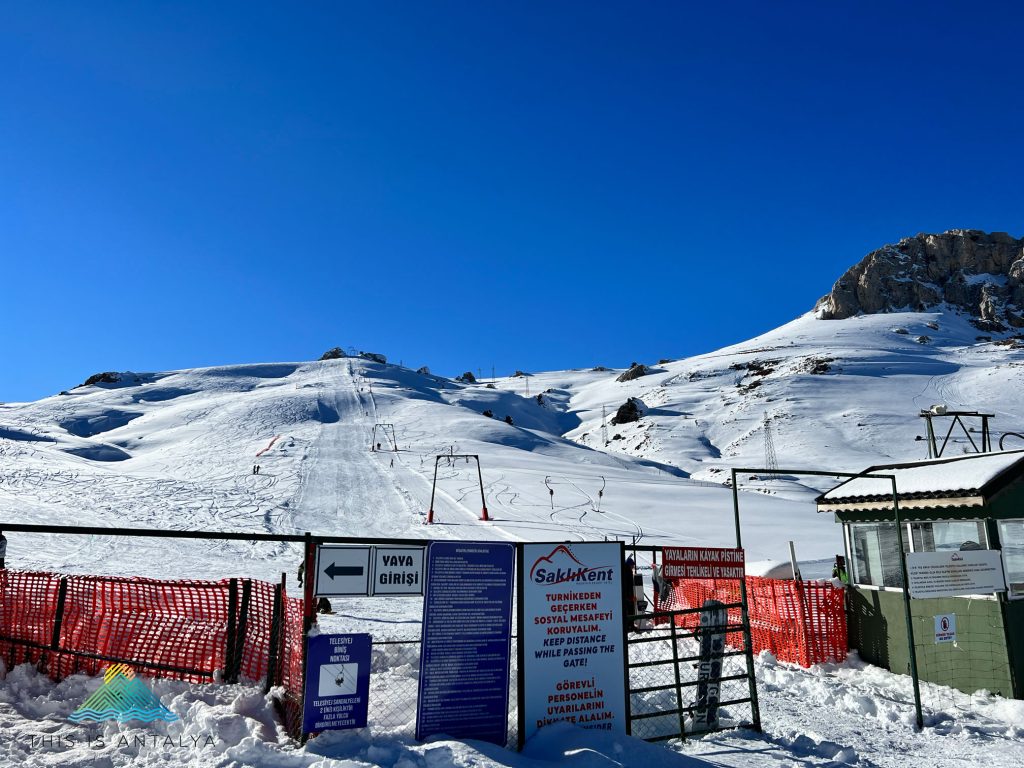 You will find three lifts:
Karakaya Chair Lift – a 2 person chair lift that runs 1,400 meters and takes you to up to 2,400 meters (7,874 feet)
Saklıbel T-Lift – a 2 person T-bar lift that takes you up to 2,000 meters (6,561 feet) and runs 645 meters
Baby Lift – a 1 person lift that runs 200 meters
Prices are always subject to change, but when we visited, we paid a 50TL deposit for one lift card that could be loaded in several ways. When you return the card, you get your 50TL back.
Season Long Unlimited Access – For 400TL + 50TL deposit you can get unlimited lift access for one person throughout the season.
One Day Unlimited Access – For 150TL + 50TL deposit you can get unlimited lift access for one person on the day of purchase.
Fifty Lifts – 800TL + 50TL deposit you can get 50 lifts that can be used by anyone at any time during the season.
Twenty-five Lifts – 420TL + 50TL deposit you can get 25 lifts that can be used by anyone at any time during the season.
Ten Lifts – For 180TL + 50TL deposit you can load 10 lifts that can be used by anyone at any time during the season.
Five Lifts – For 100TL + 50TL deposit you can load five lifts onto your card to be used by anyone on any day during the season.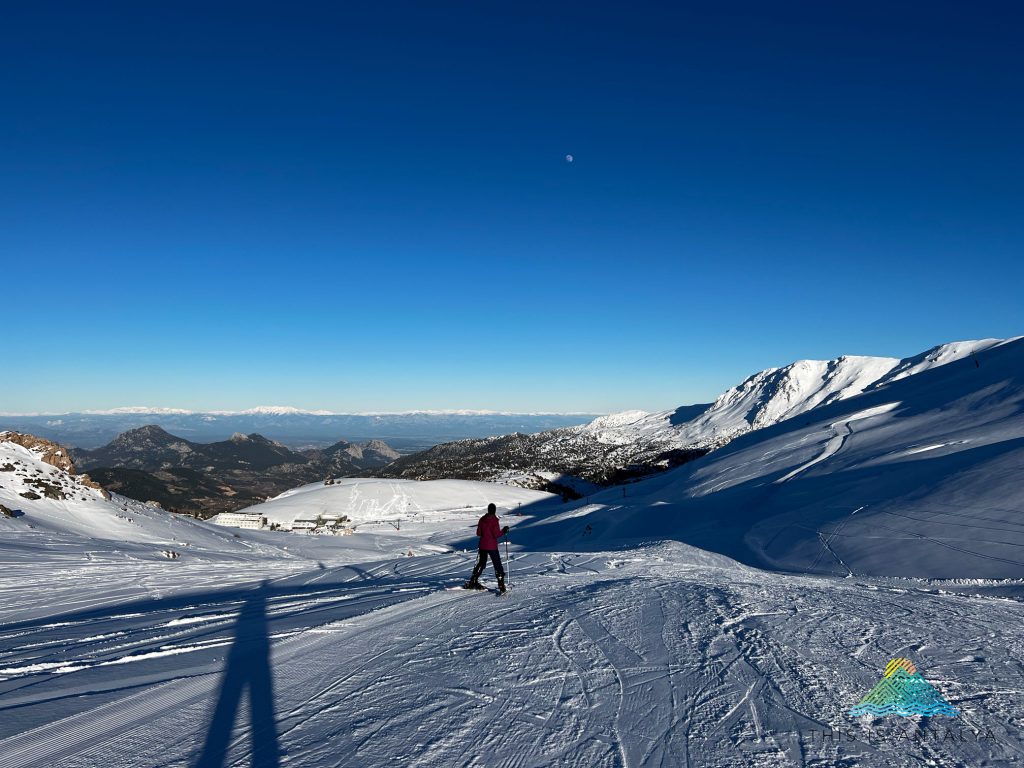 The following runs are available:
Black slope – This run is accessible by exiting the chairlift halfway. It is 1,500 meter long, straight and very steep slope for experienced skiers/snowboarders.
Red Slope – About 4,000 meters long, this run is accessible from the top of the chair lift and is for experienced skiers/snowboarders. It starts at the top of the mountain and provides challenging slopes and turns.
Blue slope – This slope is 1,500 meters long and can be reached by the Saklıbel t-lift. Its stunningly majestic slope gently turns and gradually declines to make it perfect for skiers and snowboarders who enjoy going quickly or who need to gain confidence.
Yellow slope – This slope is accessible from the baby lift and is only 300 meters long. It is used for teaching and is also great for people who haven't skied for 17 years to refresh their muscle memory on an easier slope. 😊
For a detailed look at the runs, check out this link.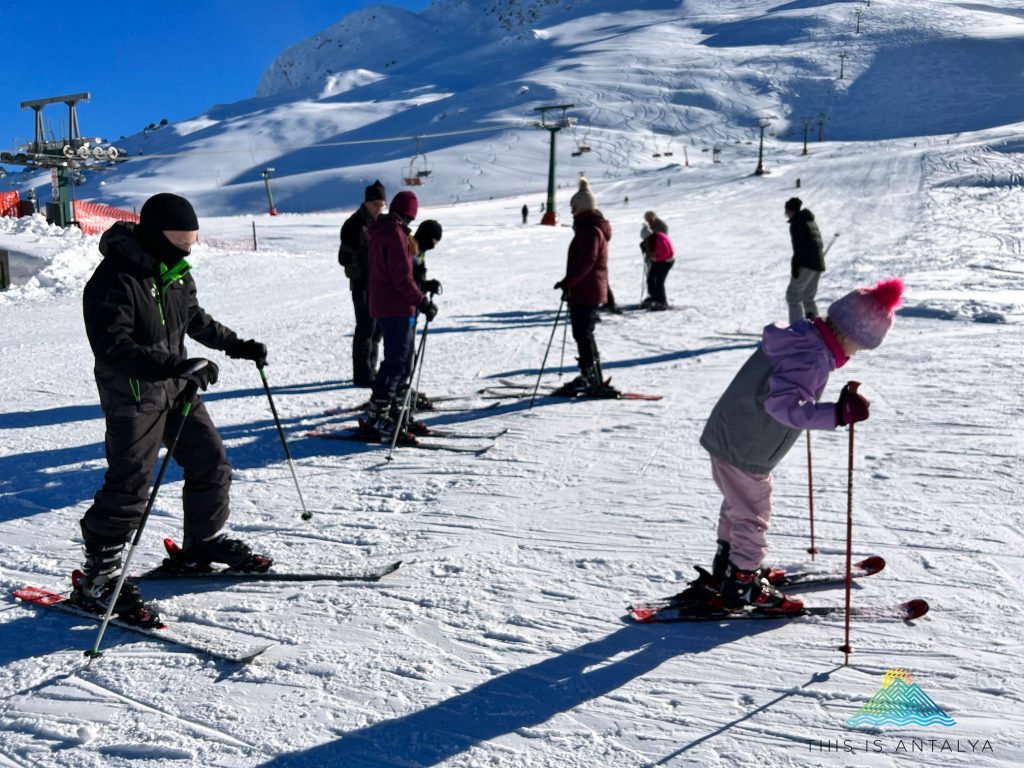 We took our family for a weekend and stayed at an AirBnB with stunning views for two nights. It was a lovely weekend of skiing, playing in the snow, and warming up with hot chocolate.
Friday the slopes and lifts were nearly empty and it was glorious. The sun was shining, there was hardly a breeze, and the snow had freshly fallen the week before.
Our children were able to take an hour ski lesson for 600TL each, including their equipment rental. Having only skied once four years prior at Uludağ in Bursa, it was a helpful refresher. The instructor was kind and patient with our kids, ranging in age from 6 to 16. By the end of their hour long lesson, they were each able to make it up the baby lift and ski down the yellow slope without falling (too much).
We stayed at our AirBnB on Saturday and the kids frolicked in the snow around our place. Sunday, we attempted to ski one more day, but the crowds were crazy and it was quite cold with the winds whipping at around 15-20km per hour.
Unfortunately, the chair lift to the higher altitudes was closed on Friday for some reason which we didn't figure out. It was working on Saturday, but on Sunday the wind speeds were too great up at the top for it to be safe.
Regardless of whether you are skiing/snowboarding or sledding, head up early, especially on beautiful Sundays. The traffic up to the mountain and back is a nightmare because of cars parked on the side of the road. Turks love to picnic on Sundays, and snow makes picnics five times more fun (and cold). So, count on lots of company once you reach the point where snow begins on the mountain.
If you want to avoid a crowd, take our advice and don't go on Sunday.
Professional or experienced skiers/snowboarders should check the weather forecast to make sure it isn't too windy before you make the trek up to Saklıkent.
You cannot take outside food or drinks into the ski park, though we did bring in some water bottles. On Friday no one was checking as people entered. On Sunday there were security personnel at the entrance turning people away who had food items.
There is a teahouse and a small restaurant on-site that offers traditional Turkish food.  You will find things like "tost" (basically a grilled cheese), "ekmek köftesi" (grilled meatballs inside a half loaf of bread), and çorba (soup). Most Turks just set up a picnic outside by their cars and eat outside of the park.
If you are hungry on your way into town or on the way out, Saklıkent Kebap is located in the village before you get to the resort and is a delicious place to eat. We had the best Saç Kavurma (sauteed meet with peppers and spices) we have ever eaten there, and their homemade french fries were amazing!
Parking spaces right outside the ski area are limited. If there is a lot of fresh snow that needs to be cleared, you should plan to arrive early. Once that parking fills up, you will end up having to park a hike down from the ski area.
There is a restroom inside the hotel past the rental store, but it costs 3TL to use.
If skiing isn't your thing, a sledding hill is also available just past the teaching hill. You cannot bring your own sleds inside the park, but they rent for 40TL an hour. If you are going on the weekend, sleds get rented out quickly because a limited amount are available.
To get to Saklıkent, you can easily drive your own vehicle and follow GPS directions (or signs). It is a relatively windy climb up, but it is not treacherous by any means. Your vehicle will need winter or all-season tires. You should have snow chains in your possession, just in case. You can also hire a private car to take you up or join a tour company taking a group up for the day. There is an entrance fee of 20TL per vehicle before you even get to the resort in order to drive into the village.
When the Karakaya Chair Lift is running, you can pay 50TL round trip per person to ride. There is a tea house at the top and an incredible view when you reach the upper station.
Location: Haşimişcan, Fevzi Çakmak Cd. No:11, 07100 Muratpaşa/Antalya
Telephone: +90 242 241 15 27
Hours: 08:30 – 17:30 Daily
Entrance Fee: 20TL per vehicle and 50TL for a bus