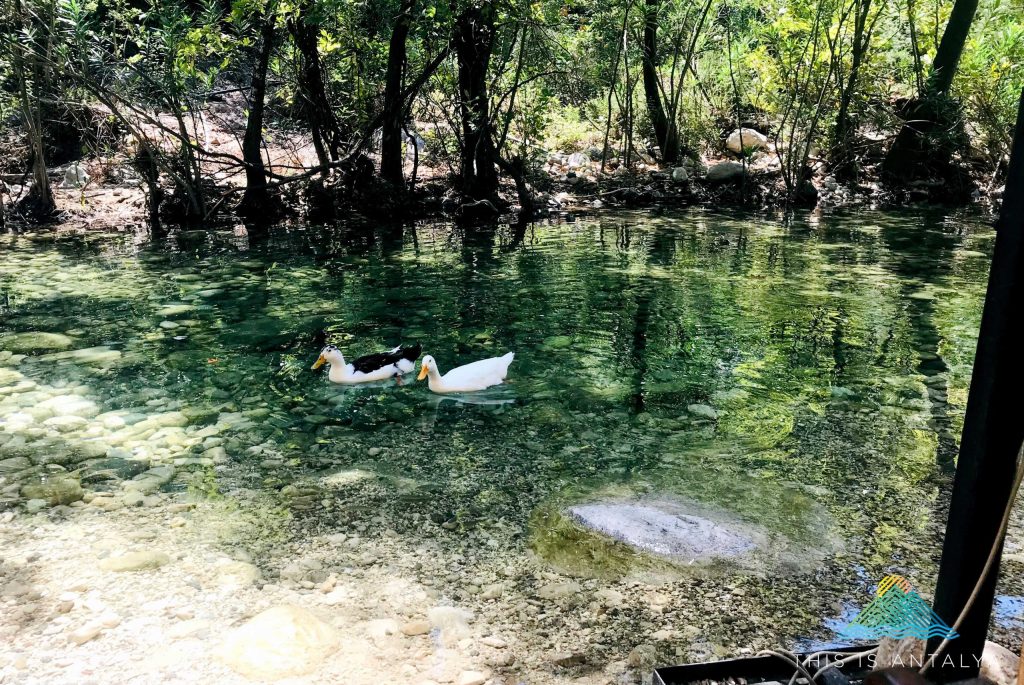 One morning last summer after disappointingly discovering that Phaselis was too crowded to enter, we decided to comfort ourselves with some Turkish breakfast. We found Yarıkpınar Meydan Restaurant on google and headed that way. Here is our review:
Location: Yarıkpınar is literally right off the road on the eastbound side of D-400 just before Tekirova. For some reason, our original GPS location proved wrong, but we were able to quickly find it as we drove back toward Tekirova.
Atmosphere: Because of its location by the main highway, we were not sure what to expect. We were pleasantly surprised when we walked down the steps to the eating area.  Nestled next to a gently flowing stream were shaded tables with bench seating. Ducks swam by as we ate and our children enjoyed looking for fish and tadpoles in the water while we waited for our food. It was already a blisteringly warm day, but the umbrellas over our heads and the breeze coming from the stream provided a reprieve from the heat. The tables are somewhat close together, so on a busy day it could feel cramped.
Quality of Food: While the food was not bad, it was a bit of a disappointment because of its generic offerings. It was fresh and the puffy lavaş (flat bread) was fun, but that was the only bread option we received and we ran out of it quickly. The typical kahvaltı spread of tomatoes, cucumbers, olives, cheese, and jelly was set off with some scrambled eggs. Again, the food was fresh and the quality was good; we have just been spoiled by some amazing kahvaltı places during our time in Turkey.
Amount of Food: The serving sizes were adequate, but we definitely could have used more bread.
Cost: With the lack of extras (gözleme, bazlama, homemade jellies or relishes) it seemed a little on the high end.
Cleanliness: Outdoor seating was clean and tables were covered with paper that is changed after each meal.
Restrooms: Bathrooms were presentable and there was toilet paper and paper towels, always a plus.
Service: Our food came quickly after ordering and multiple waiters were mostly responsive to our needs, though when it came time for the bill it took a while for it to be delivered to our table.
Final Thoughts: The natural setting at Yarıkpınar is lovely, but the kahvaltı is nothing to get excited about. Perhaps their dinner options would be more desirable. We would recommend stopping there in a pinch for a typical Turkish kahvaltı, but there are other kahvaltı restaurants that offer both aesthetics and delightful food not that far away.
Location: Üzeri Yarıkpınar Mevkii, Kumluca Kemer Yolu, 07995 Kemer/Antalya
Hours: Monday – Sunday : 7:00am – 12:00am
Telephone: 0532 253 1324
Website: www.meydanrestaurant07.com