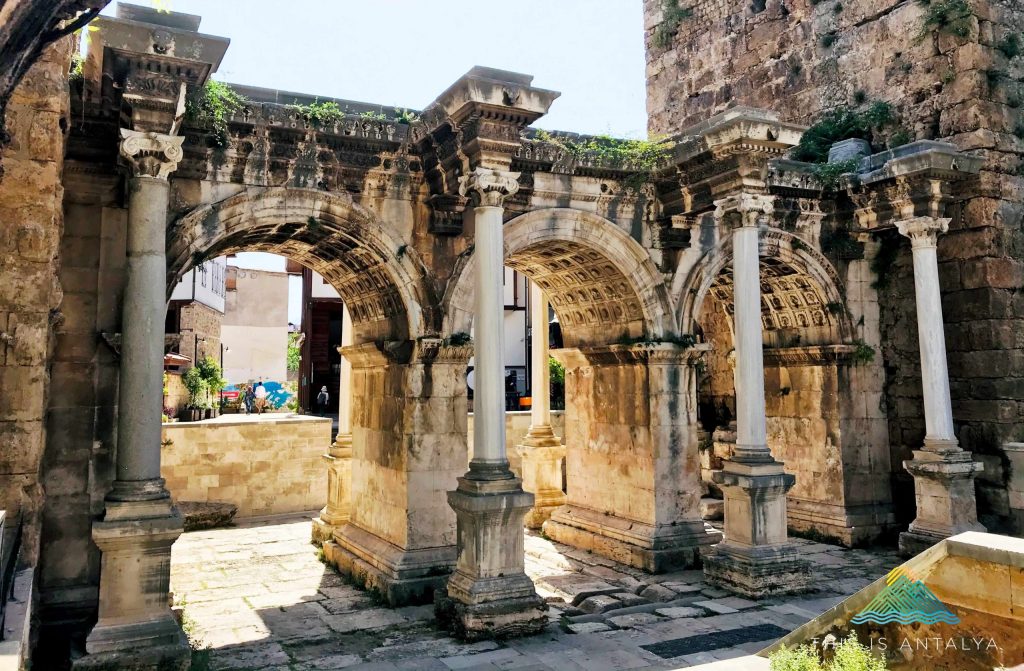 Hadrian's Gate, an iconic monument in Antalya, is a must-see photo spot found at one of the entrances to Antalya's old town, Kaleiçi. During Roman times, Antalya, formerly known as Attaleia, was a wealthy port city enclosed by thick fortress-like walls to prevent unwelcome visitors. Gates were built around the city to let people in and out, and this one in particular was built around 130 A.D. to honor Emperor Hadrian's visit to the city. At that time, it was the entrance for the road that came from Side, Aspendos, and Perge.
Today, Hadrian's Gate is the only remnant of those ancient gates left standing.  It is not only magnificent to behold, but purposeful as it serves as one of the entrances to perhaps the most popular tourist spot in the city, Kaleiçi.
With its triple-arched triumphal glory and deeply grooved pavement from thousands of years of wagon wheels leaving their mark, Hadrian's Gate is the quintessential photo opportunity and a fascinating piece of history. Be sure to check out the different towers on the outsides of the gate. The one on the left as you enter Kaleiçi was built during Roman times, and the tower on the right was rebuilt in the 13th century by Sultan Alaeddin Keykubat I. As you pass through, you also won't want to miss the delicately carved flower tiles in the arches up above. But, take care, the ruts in the pavement are definitely precarious and could cause you to trip if you aren't paying attention.
Helpful tips: Hadrian's Gate is a popular tourist attraction drawing tour buses and significant crowds. For the best pictures, go early in the morning to avoid crowds. And be sure to take a stroll through Kaleiçi's gift shop, café and boutique hotel lined-streets for more Instagram-worthy picture moments.
Location: Barbaros, 07100 Muratpaşa/Antalya, Turkey