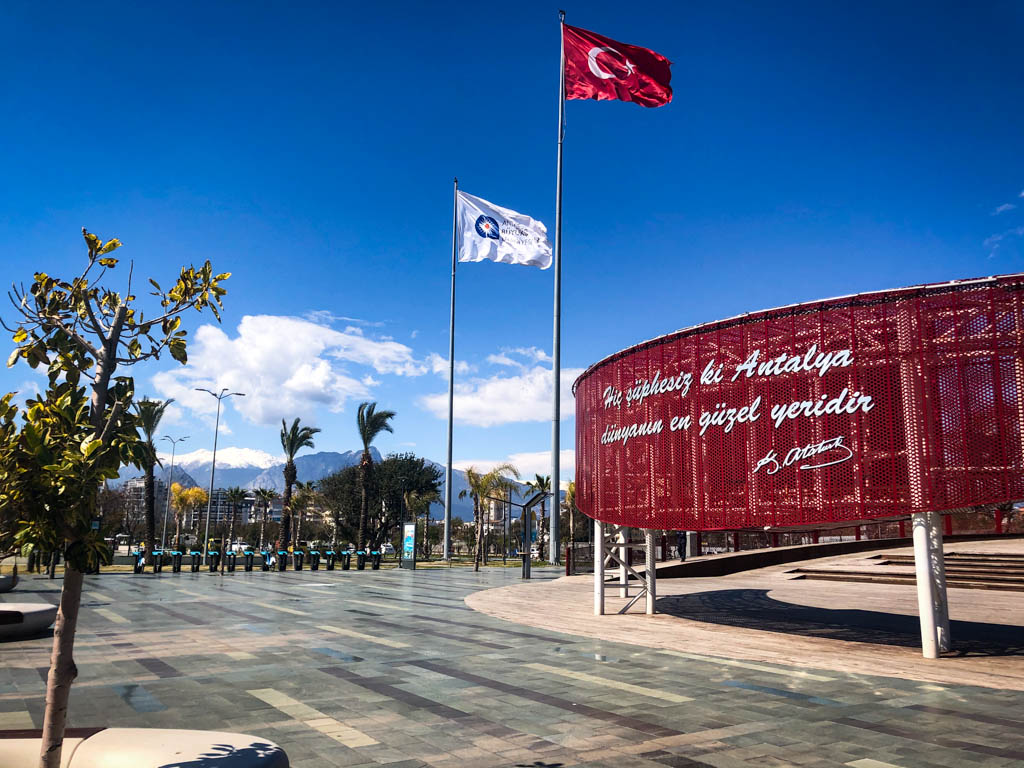 Year around, folks from near and far gather along what has been called one of the world's most beautiful beaches, Konyaaltı Beach. Whether it is time grab a bite to eat, linger over a drink with a friend, or burn off some energy, Sahil Antalya is the place to meet.  
Stretching for 7km, the park itself spans the length of seaside from what's called the Variant (where the cliffs separate Konyaaltı from the central part of town) almost to the Liman Harbor. Entertainment and healthy lifestyle activities available include swimming, pedestrian and bicycle paths, playgrounds, basketball courts, tennis courts, and a skateboard-skate park. Open, grassy areas for picnicking stretch out above the seawall, looking out across the rocky beach and Mediterranean Sea. What is clearly missing-massive resorts and loud city traffic. 
A collection of about 50 cafes and restaurants are located together on the Variant end, near the sailing club and a glass elevator leading to Atatürk Kültür Parkı. We love the prominence of comfortable outdoor seating, with coverings for rain, small playground equipment for children, and green grass underfoot.  
Morning to night, restaurants serving Turkish dishes ranging from affordable kumpir (large, stuffed baked potatoes) to expertly grilled meats sit alongside cafés serving international foods like pizza, sushi, or fish and chips. Dessert cafés prepare gelato, ice cream, and dessert waffles fix a sweet tooth. Tea and coffee shops keep you caffeinated. For those interested, a number of cafés do offer a range of adult beverages. Because dining establishments can change hands rather quickly and most in this area have English translation, we are not recommending specific places. Rather, we encourage you to find a place you think looks good and give it a try. 
Be it for a sunrise run, a family Turkish breakfast, an afternoon ice cream cone, or a sunset meeting with friends, you'll likely find a good spot for it at Sahil Antalya. 
Services information: Free public restrooms are located under the boardwalk; paid (but no cleaner) restrooms are along the backs of boardwalk cafes. (Either way, bring your own toilet paper and hand sanitizer.) Beach showers are available. Private security and police protect the area, and lifeguards are on duty as posted. Several banks of ATM machines are scattered along the boardwalk as well. 
Note to families: While there is a lovely sense of community safety in Antalya as there is throughout Turkey, families with children need to be aware that street dogs do roam freely, and people regularly disregard warning signs by driving vehicles of all kinds where they are prohibited.  
Location:  Meltem, D400 No:7030, 07030 Muratpaşa/Antalya 
Parking: Free and paid parking available; price varies 
Website: www.sahilantalya.com