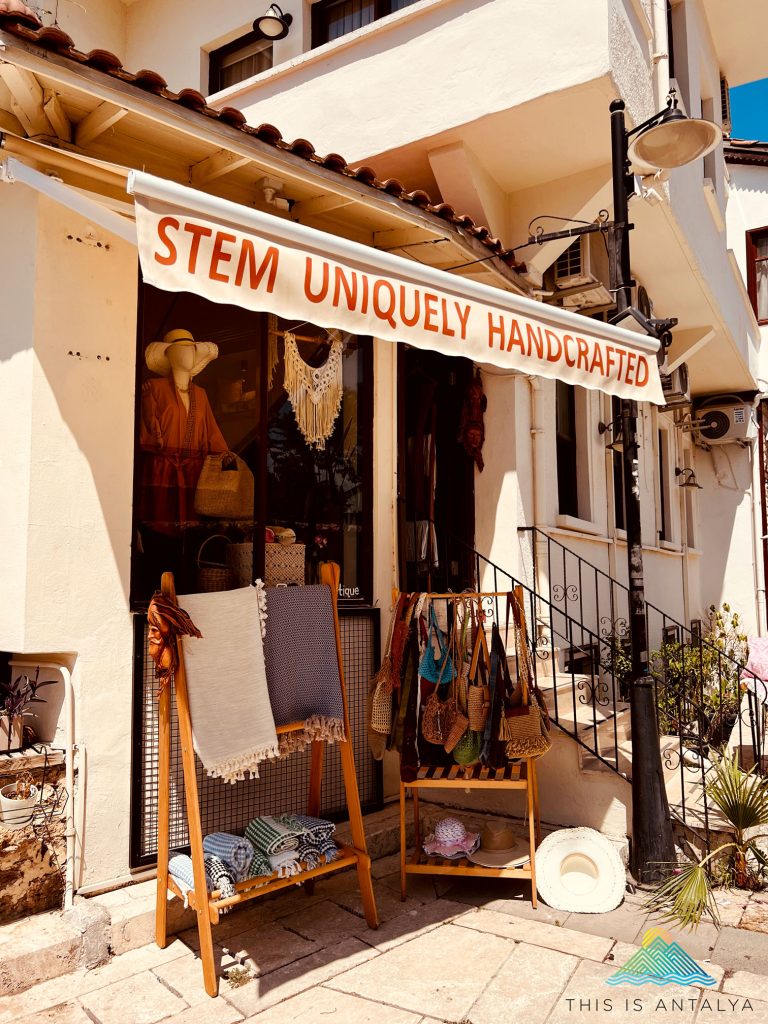 Souvenir and gift shops abound in Antalya, especially if you find yourself in Kaleiçi where every other storekeeper might try to persuade you to stop and see what they have inside. But what if you want something in between expensive Turkish carpets and kitschy refrigerator magnets? Look no further than our friends' perfectly curated gift shop: STEM Uniquely Handcrafted. If you are looking for hand-crafted, made in Turkey, quality gifts for family, friends or yourself, STEM is our top recommendation.
Though we certainly have an extensive collection of souvenir magnets from cities around the world, most of the time if we are shopping for gifts for friends or family we want something more thoughtful that we know will last. Over the past three years, we have purchased multiple gift items from STEM, both for others and ourselves. We have never been disappointed in their quality or selection.
Another reason we love shopping at STEM is because of the professional and trustworthy employees who work there. Özden, the kind gentleman who has worked there since the beginning and now mans the textile shop, is gracious and definitely not like a used car salesman or Turkish carpet dealer. He is helpful and courteous without being pushy, and he loves kids. Unlike some of the other shopkeepers in Kaleiçi, we never feel rushed or pushed into buying something.
Owned and operated by our good friends, we know for a fact the items you see on the shelves are personally selected by them from artisans in the Denizli region. For this reason, there will be variations in what you see on different visits. What started out as one space near the Hıdırlık Tower in Kaleiçi has branched out to two different stores right next door to the original and right around the corner from each other.
The store next to the original location is filled with small gift items like bracelets, earrings, crocheted purses, hand soaps, and macrame wall-hangings. The other store is all about lovely Turkish textiles. Towels, robes, blankets and scarves line the shelves in a rainbow of colors.
Prices are reasonable and competitive, but know you might pay a little more for quality and craftsmanship you can trust without the hassle and pressure you might experience in other shops.
If you have not been to STEM in recent months, be sure you don't go to the original location. The shop owners there are slightly dishonest and not forthcoming about the name of their store and who they are affiliated with when you ask them. They are also pushier and it was next to impossible to tell them no.
Take some time to chat with the employees if you can. When they ask if you want a cup of tea, say yes and get to know them. This is one of our favorite parts of shopping here.
Don't be afraid to ask if you are looking for something specific. Sometimes there are more options in places you cannot see. Other times, they might have better options that more suit what you want.
Also, don't be afraid to say "no, thank you" if they don't have what you want. They will be gracious and not back you into a corner to buy anything.
If you have never seen the Turkish ice cream tricks performed on the streets here, just down the way toward the water from the shops is an ice cream stand with men who love to perform for visitors.
If candy is more your thing, be sure to GPS "Just a Candy Sweet Factory." This cute confectionary store is a short walk from STEM and a candy-lover's delight!
While in Kaleiçi, don't miss Karaalioğlu Park or Hadrian's Gate.
Location: Kılınçarslan, Hesapçı Sk. No:70, 07010 Muratpaşa/Antalya
Opening Hours: 10:00am – 9:00pm
How to get there: Take the Nostalgic Tram to the Üç Kapılar (Hadrian's Gate) station or the Belediye Station (depending on which direction you are heading) and walk toward Hıdırlık Tower or follow GPS walking directions to STEM to get there. Look for the STEM Uniquely Handcrafted signs above the doors.