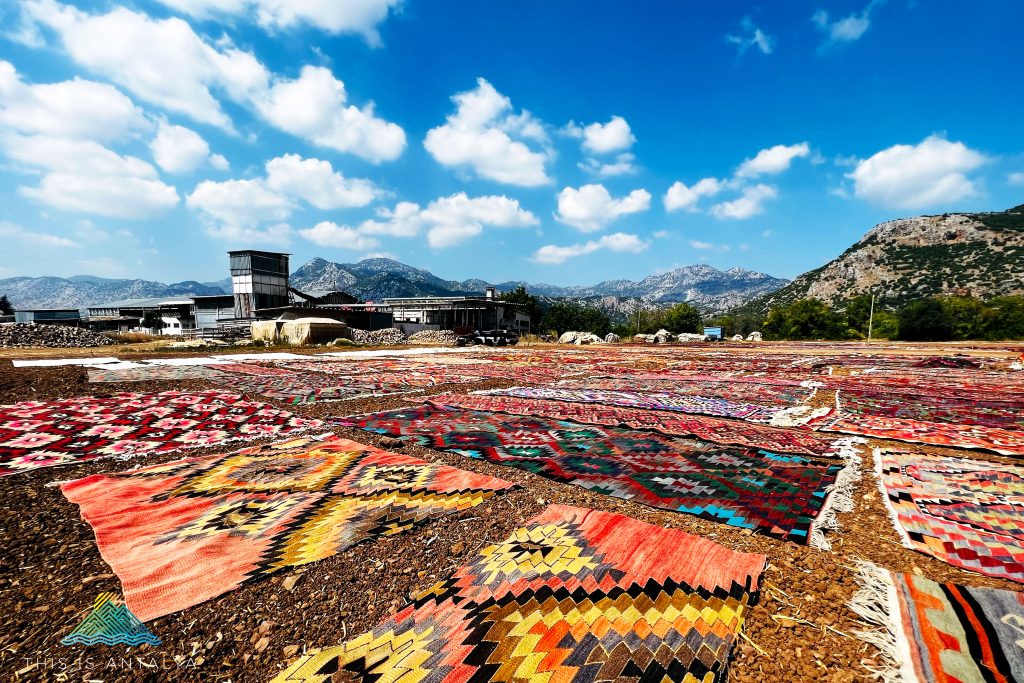 About one hour north of city center is a Turkish wonder – the Döşemealtı Carpet Field – which was featured in National Geographic's season two of Europe From Above. One of this country's most iconic symbols is the Turkish rug and the Döşemealtı Carpet Field has thousands of these intricately designed and colorfully patterned masterpieces on display. Read on to learn more about this fascinating place and what you might want to know before visiting.
What is the Döşemealtı Carpet Field?
Located just on the edge of the village of Killik in Döşemealtı, the carpet fields are actually the property of Topkara Halı Yıkama. This factory receives carpets from all over Turkey. After washing the carpets, they are set out in like groups across acres and acres of fields to bleach in the sun for three months of the summer.
During our visit, around 20 employees of all ages sat under a tree in the middle of the fields, some in a tractor bed and others on a blanket on the ground. It looked like they were having an afternoon snack break in the shade and none of them seemed to pay much attention to us as we wandered around. They probably wouldn't even have talked to us as we walked by if we hadn't made eye contact and asked how they were doing. We don't think they were being rude. It is just a normal every day occurrence for random people to come view this incredible sight and most of the time those people probably can't communicate with them.
Because we can speak some Turkish, we ended up asking them a few questions. They were friendly and we think we might have met Rozia Topkara, who is featured on the Europe From Above episode. She seemed to be in charge and was the one who answered our questions.
According to her, there are 4-5,000 rugs in the fields this year. Dozens of locals from the area are hired every summer. Their job is to keep an eye on the carpets as the sun fades them, so most of their days are spent strolling around the fields with the summer heat beating down their backs. When the time is right, they flip the rugs. They also watch out for and re-position carpets that might be tossed around in the wind.
Toward the end of the summer when they are faded to perfection, the rugs are picked up from the fields, stacked into piles, and shipped to Istanbul where they will be exported to countries around the world. In the meantime, they watch and flip and wait.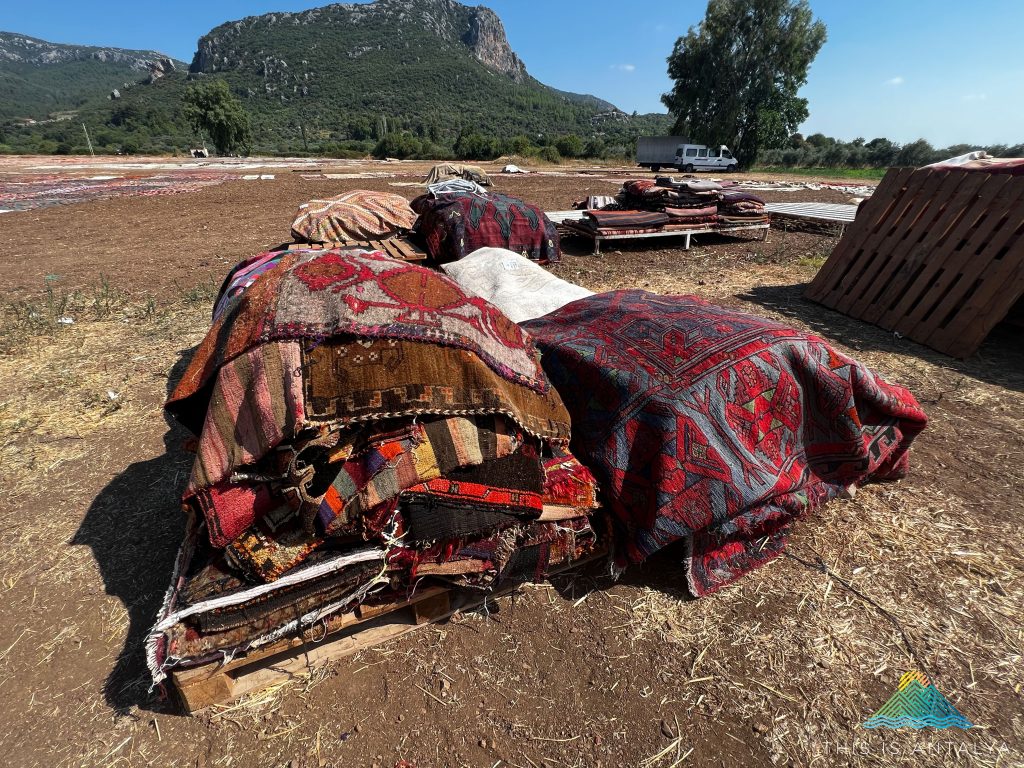 Helpful Tips for Your Visit
Don't be afraid to drive through the gates and past the factory to reach the fields. We drove on by and no one said a word to us as we parked at the edge of the field and began to explore.  They are accustomed to visitors and really don't mind.
We visited on a warm early-August afternoon when the sun was fairly hot. A trip before lunch might be a better option to avoid the afternoon heat.
Take water bottles if you plan on staying for a bit. Wandering around dusty fields and looking at rugs in the summer sun is thirst-inducing.
There is not a bathroom on site for visitors to use. So be sure to go before you come.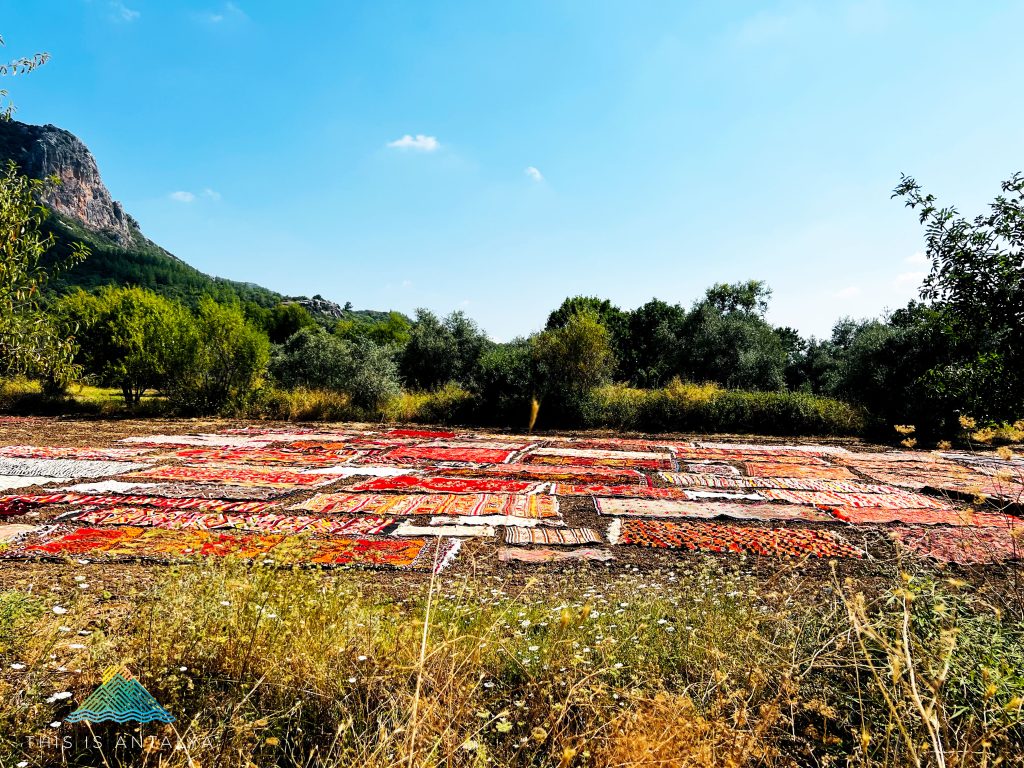 Feel free to roam about and always look past fields to the next one. The carpets just keep going and going.
Bring a good camera or phone to take pictures. It really is a beautiful sight to see the array of colors contrasting with the bright blue sky and mountainous back-drop.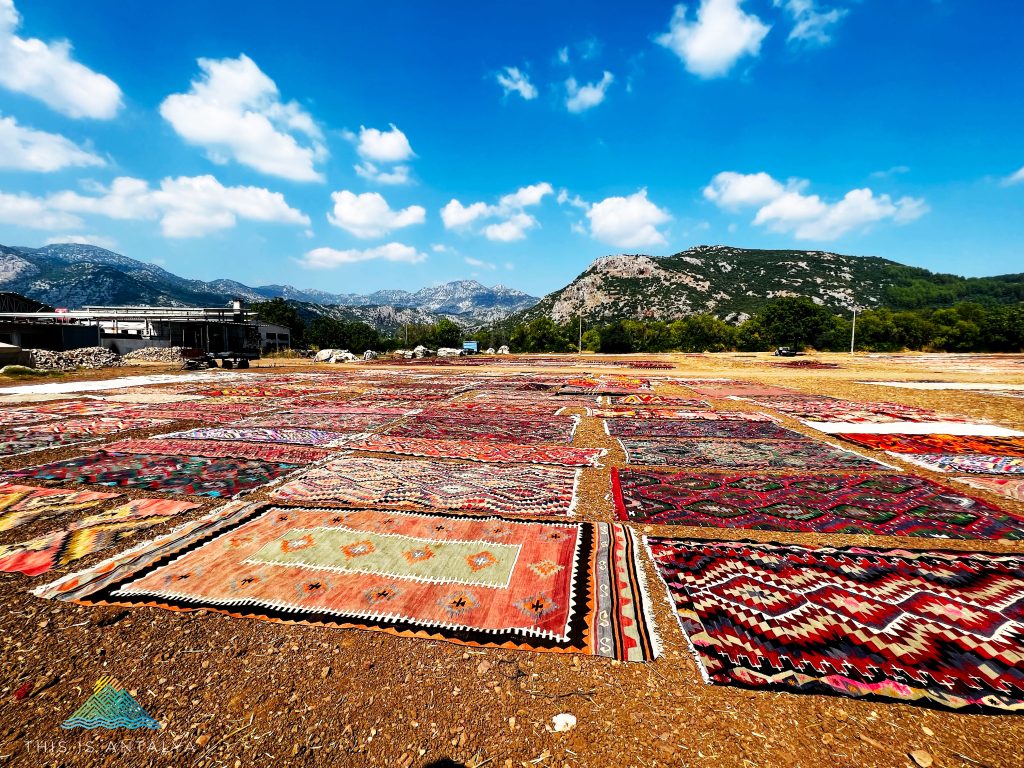 Try to talk with the people working in the fields. They are friendly and easily approachable even though they will most likely leave you alone if you don't speak to them first.
If you are looking for other things to do while in Döşemealtı, be sure to check out our posts on Karain Cave, Kocain Cave, Kocaçay Falls, Edvirevhan, and Kepez City Forest Park. 
If you are hungry after your trip to the carpet fields, stop by Hilmi Beken for a nice meal or some fun snacks from the gas station market.
Also not far out of your way is Miray Coffee if you are looking for some good coffee and delicious pastries.
The Döşemealtı Carpet Field can be reached by taking DM-86 from the main Antalya bus station, but it takes over two hours and that is a LONG bus ride in the hottest part of the summer. You are much better off hiring a taxi or renting your own vehicle.
When you google Topkara Halı Yıkama it actually takes you to a point past the factory. Look for the factory sign on the right just after you drive under the blue village entry "gate".  Turn there and drive past the factory, sheep, and cows to reach the fields.
Address: Killik, 07190 Döşemealtı/Antalya
Hours: Daily from 08:00 – 18:00