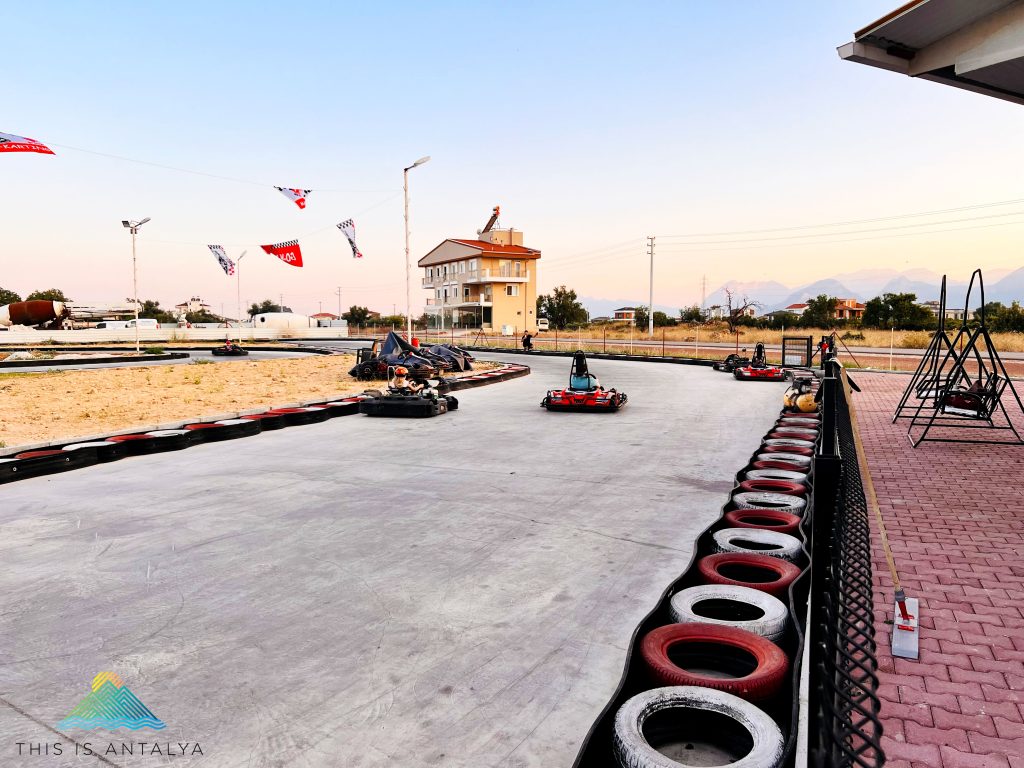 If you are a go-cart lover, we have good news for you: Döşemealtı Go Kart is another fun option for thrill-seekers in Antalya! Read on to discover more about this small family-run business north of city center.
Döşemealtı Go Kart is a small outdoor track that allows you to zip around quickly. With around ten adult-sized go-carts and 3-4 youth-sized carts, the smaller loop evokes big excitement because the track can get pretty crowded and the cars are fast. There is also something exceptionally exhilarating about zipping around an outdoor track.
Less polished than Antalya GoKart, this track makes up for not being indoor or having fancy timers by providing hospitable and gracious service. Every time we have been there they have gone out of their way to serve us and make our time enjoyable. They are also super patient with young kids.
There is a small covered area next to the track where those not driving can hang out and watch. There is a bathroom, but there are not really any other amenities.
If you go in the summer, we recommend visiting in the evening before sunset. The view of the mountains at that time of day is gorgeous and the temperature is pleasant.
There are helmets available, but they are not required. If that is a safety concern for you, Antalya GoKart might be a better option.
The kids' carts work great and the small track is the perfect size for first-time racers. But we don't recommend it for anyone under 8 years of age.
Bring water bottles if you come in the summer since there are not concessions available.
If you are looking for more family fun near Döşemealtı Go Kart, be sure to plan a visit to Karain Cave, Kepez Kent Ormanı, Kocaçay Falls or Edvirevhan or Park Funtastic.
Don't leave Döşemealtı hungry! Check out one of our favorite Antalya restaurants, Hilmi Beken. And, if you want a delicious coffee or treat, stop in Miray Coffee.
Located just off of D-650 on the west side, Döşemealtı Go Kart is easy to find. About 40 minutes by car from city center, you can also get there by public transportation on DC-15A or DC-79.
Address: Çıplaklı, 07190 Döşemealtı/Antalya, Türkiye
Phone: 90 538 541 0900
Hours: Daily from 11:00 – 23:00 (call ahead to confirm)
Price: call for latest prices