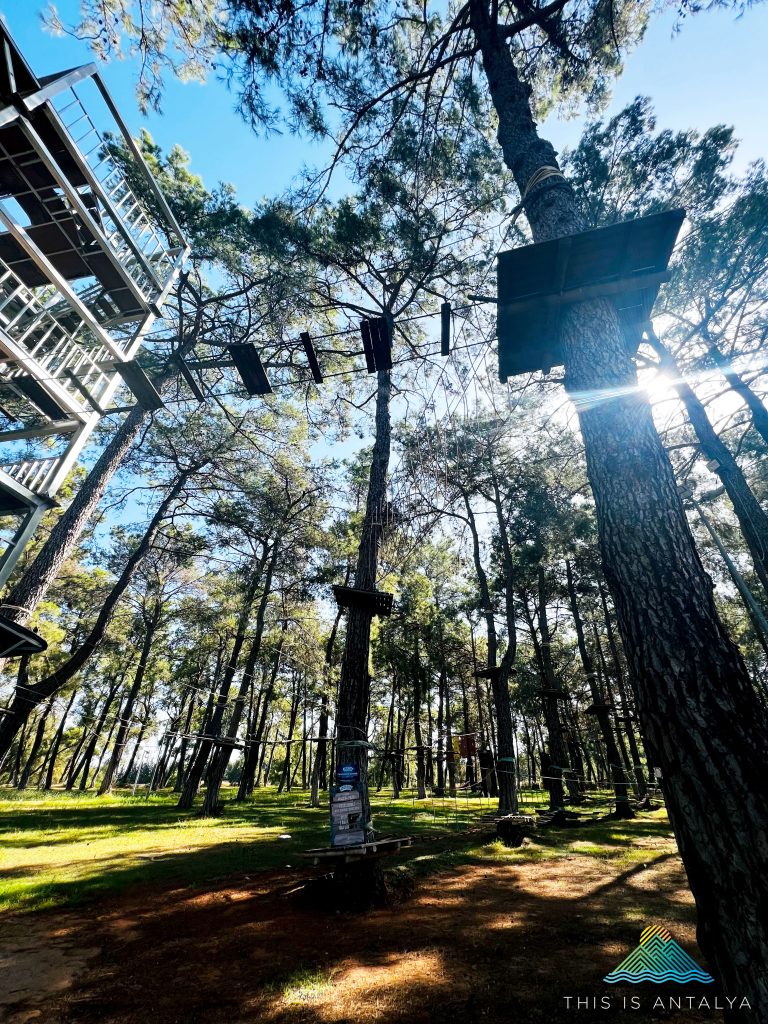 Have you heard of Antalya Kepez Adventure Forest? Whether you are looking for a unique birthday party idea for tweens or teens, a team-building activity for your co-workers, or just a fun family outing, Antalya Kepez Adventure Forest is an exceptional choice. Read on to find out what this adventure park offers.
Located next door to Kepez Kent Ormanı, Kepez Adventure Forest offers a variety of outdoor experiences for just about everyone. Paintball, horseback riding, a ropes course, a children's playground, a Survivor obstacle course, and a restaurant can all be found inside the park.
We have enjoyed a lovely kahvaltı (Turkish breakfast) overlooking the city at the restaurant as a family and braved the ropes course in the heat of summer with a big group of friends. Both experiences did not disappoint.
A really kind and patient man named Emre runs the ropes course and organizes other team building activities. He doesn't speak a lot of English, but he understands some and is very gracious in his communication.
Two ropes courses are found at the park, but only one was functional the last time we were there. The other course is higher and looks to be more challenging. But the lower course was more than enough for our tweens and teens and provided about an hour of fun from the time they geared up until they zip-lined to the finish.
We have not played paintball there before, but we know it can be done. Multiple times when we have been at Kepez Kent Ormanı we have heard the pelting noises of paintball guns being fired.
The ropes course makes for a not too terribly hot shaded adventure on a warm summer day, but we recommend going in the morning for the best experience. Most of the area in Kepez Adventure Forest is tree covered, so it provides adequate shade from the sun.
We recommend bringing your own water bottles as the restaurant is not always open.
Call ahead to arrange activities if you can. Emre is easy to work with and very helpful.
While you are in the area, you should definitely hop over to Kepez Kent Ormanı next door to see the overlook and the top of Atatürk's head.
We also highly recommend a stop for tea, gözleme, and pumpkin dessert at Teras Piknik if you visit in the fall. Tell our friend Cumhur that we sent you.
The ropes course is fun for kids and adults ages 10 and up. If you have an exceptionally tall and strong 8 or 9 year old, they might be able to make it through the course. But, they have to be tall enough and capable to reach up and change their belay when they get to each new section.
The ropes course can also be physically challenging and causes you to use muscles you might not normally use. There is one section in particular where you have to support your own body weight with your arms. Keep that in mind as you think about participating.
Weekdays are definitely less busy than weekends if you have that option.
Kepez Adventure Forest is located on the north side of Antalya city center. You can get there easily by taxi from city center. If you want to go by public transportation, you can take the T1A tram to the Kepezaltı stop. From there, walk one minute to the Antalya Blv-8 bus stop where you can catch DC15, DC15A, DC79 or DM85A. Ride five stops to D650 Akdeniz Blv-1. After you get off the bus, you will head back to the road just past the Tahtakale Mangalevi and walk about 15 minutes to the entrance.
Address: Erenköy, Macera Ormanı, 07010 Kepez/Antalya
Telephone: 90 242 326 6292
Hours: Monday-Friday: 8:00 -23:00; Saturday-Sunday: 8:00-24:00
If you happen to be in the area close to Kepez Adventure Forest and are looking for other things to fill your day, check out:
Family fun:
History lovers:
Nature buffs:
Delicious food: